For the first time, scientists watched a dying star swallow a planet whole
Astronomers have spotted a bright flash of light from a Jupiter-size world being consumed by its own star in a preview of Earth's likely fate.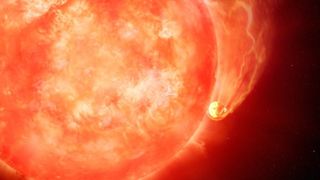 (Image credit: International Gemini Observatory/NOIRLab/NSF/AURA/M. Garlick/M. Zamani)
Astronomers have spotted a star devouring one of its planets for the first time. It is a stunning preview of our own planet's fate, when, in roughly 5 billion years time, Earth too will likely be engulfed by our rapidly expanding sun.
The distant planet met its gory demise 13,000 light-years from Earth around a star that had quickly ballooned up to thousands of times its original size. Astronomers witnessed the hapless planet's death as a distinctive white-hot flash of light that grew in intensity over 10 days.
By studying the light from the outburst, as well as the chemical signatures from the material burped out by the planet-devouring star, the scientists identified the consumed planet as a gas giant at least 30 times the size of Earth. Details of the first-of-its-kind observation were published May 3 in the journal Nature.
Related: Red supergiant stars 'dance' because they have too much gas
"We are seeing the future of the Earth," lead author Kishalay De, a postdoctoral student at the Kavli Institute for Astrophysics and Space Research at the Massachusetts Institute of Technology, said in a statement. "If some other civilization was observing us from 10,000 light-years away while the sun was engulfing the Earth, they would see the sun suddenly brighten as it ejects some material, then form dust around it, before settling back to what it was."
For most of their lives, stars burn by fusing hydrogen atoms into helium. Once they have exhausted their hydrogen fuel, however, they begin fusing helium, leading to a massive increase in energy output that causes them to swell to hundreds or even thousands of times their original size — gobbling up their inner planets as they transform into huge stars called red giants.
The astronomers first spotted the strange light burst using the Zwicky Transient Facility, an astronomical survey that scans the sky for sudden changes in star brightness using the California Institute of Technology's Palomar Observatory. It was then that they discovered the flash, designated ZTF SLRN-2020, which began as a brilliant beam of light and intensified 100-fold over the next 10 days. The light shone for 100 days before it sputtered out.
To investigate what could have caused the flash, the researchers turned to the Keck Observatory in Hawaii and broke the light down into its component wavelengths with a spectrograph to figure out its chemical composition. Initially, the researchers suspected they had spotted a nova — a dying binary star pair that grows suddenly brighter when the husk of one star (a white dwarf) steals some of the fire from its red giant companion — but the chemical signatures didn't match.
The molecules the researchers saw "are only seen in stars that are very cold," De said. "And when a star brightens, it usually becomes hotter. So, low temperatures and brightening stars do not go together."
By using NASA's NEOWISE infrared space telescope, the researchers found the final clue to the mystery — the energy released by the flash was tiny, roughly 1,000 times less bright than any previous stellar merger. The astronomers realized they had caught the final moments of a Jupiter-size planet being engulfed by its star, burning incandescently as it fell to the red giant's core before being reduced to dust.
Evidence for stars consuming their planets has long been observed in the chemical signatures around stars, but this is the first-ever direct observation. The researchers say it gives a crucial insight into what the rest of the universe will see when Earth, along with Mercury and Venus, have their deadly dinner date with our star in around 5 billion years' time.
"I think there's something pretty remarkable about these results that speaks to the transience of our existence," co-author Ryan Lau, an astronomer at NOIRLab, said in a statement. "After the billions of years that span the lifetime of our Solar System, our own end stages will likely conclude in a final flash that lasts only a few months."
Stay up to date on the latest science news by signing up for our Essentials newsletter.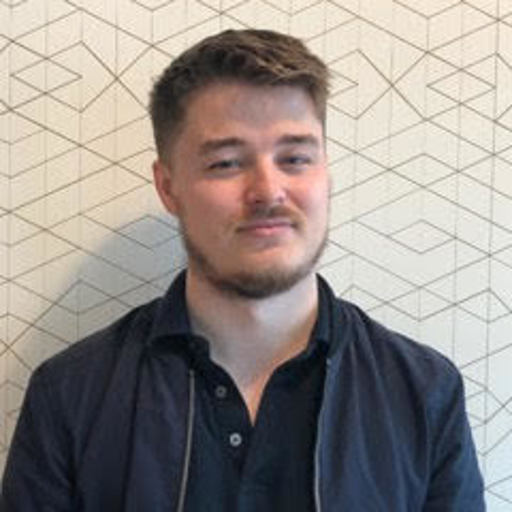 Ben Turner is a U.K. based staff writer at Live Science. He covers physics and astronomy, among other topics like tech and climate change. He graduated from University College London with a degree in particle physics before training as a journalist. When he's not writing, Ben enjoys reading literature, playing the guitar and embarrassing himself with chess.