Titanic sub was lost due to catastrophic implosion, US coast guard says
The submersible, which has been missing since Sunday, is believed to have been crushed by high pressure, discovery of debris near the Titanic wreck has revealed.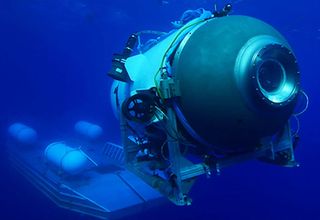 (Image credit: OceanGate)
The U.S. Coast Guard has confirmed that debris found near the wreck of the Titanic was part of the lost Titan submersible. The sub suffered a "catastrophic implosion", killing the five men inside, the U.S. Coast Guard said at a press conference Thursday (June 22).
The debris, remnants of the lost Titan submersible, was discovered just 656 feet (200 meters) from the Titanic wreck, near its bow. It was found after a four-day search by an international rescue effort headed by Canadian and U.S. authorities.
Support ships lost contact with the custom-built submersible on Sunday morning (June 18) at 9:45 a.m. EDT (1:45 p.m. GMT) roughly 1 hour and 45 minutes into its 2.5-hour descent to the Titanic's wreck, which is located 12,500 feet (3,800 meters) beneath the surface and about 900 miles (1,500 kilometers) east of Cape Cod.
"The debris is consistent with a catastrophic loss of the pressure chamber. Upon this determination we immediately notified the families", said Rear Admiral John Mauger of the US Coast Guard, who led the search for Titan. He added that the coast guard wants to "extend our condolences to the families of those on board".
The missing crew consisted of Hamish Harding, a British billionaire and adventurer; Shahzada Dawood, a Pakistani-British businessman and his 19-year-old son, Suleman; Stockton Rush, chief executive and founder of OceanGate Expeditions; and Paul-Henri Nargeolet, a French submersible pilot.
OceanGate — the owner of the sub and a private company that had charged $250,000 per head to give the tour — wrote in a statement on its website that the loss of the crew was "an extremely sad time for our dedicated employees who are exhausted and grieving deeply over this loss."
"These men were true explorers who shared a distinct spirit of adventure, and a deep passion for exploring and protecting the world's oceans," OceanGate wrote in the statement. "Our hearts are with these five souls and every member of their families during this tragic time. We grieve the loss of life and joy they brought to everyone they knew."
Related: Missing Titanic submersible: Banging sounds heard in search for lost sub Titan
Hope remained that faint, periodic banging noises detected near the wreck by a Canadian aircraft were the crew's attempt to signal their location until an ROV, the Odysseus 6k operated by the Canadian surface vessel Horizon Arctic, discovered the debris.
Dale Mole, a former U.S. Navy physician, told the BBC that the discovery was "indicative of an implosion".
"Death would have been instantaneous," Mole said, an outcome that, though tragic, was less agonizing than being stuck inside a cramped vessel with a slowly dwindling oxygen supply.
"You can just imagine what it would have been like... it's cold, your oxygen is running out," Mole added. "If we can't have them back, this is the best possible scenario."
The Titan was a five-person experimental submersible that had not had its design classed, meaning it was built without regulatory approval from ship classification societies.
Piloted by a Logitech gaming controller and made from titanium and filament-wound carbon fiber, the submersible was bolted shut from the outside. This means that the crew inside could not open it; to be let out, a team on the surface had to unseal the hatch.
Following the announcement of the Titan's disappearance, search and rescue teams scrambled to locate the ship. During the search, marine scientists speculated upon a number of potential scenarios for how the craft went missing. These included power failure; electrical faults; adverse weather conditions; the submersible getting snagged on a piece of the Titanic's wreckage; or, as the discovery of the debris now confirms, a catastrophic implosion of the ship's hull.
How and when this implosion occurred is unclear, but the custom design of the craft leaves experts with many possible scenarios. Some scientists have suggested that Titan had most likely imploded due to a fault in its carbon fiber and titanium hull. Others said the failure was caused by the viewpoint — a glass screen whose manufacturer only certified as safe at depths of 4,265 feet (1,300 m), while the Titanic lies about 12,500 feet below the surface.
The rupture would likely have caused a violent and instantaneous implosion as the high pressure water outside flooded in, wrenching away the rear cover, landing frame, and ripping apart the sub's hull, crushing those inside.
The dive took place after a particularly harsh winter, during a brief reprieve from adverse weather conditions, Harding wrote before embarking on the voyage.
"Due to the worst winter in Newfoundland in 40 years, this mission is likely to be the first and only manned mission to the Titanic in 2023," Harding wrote on Instagram, June 17. "A weather window has just opened up and we are going to attempt a dive tomorrow. We started steaming from St. Johns, Newfoundland, Canada yesterday and are planning to start dive operations around 4am tomorrow morning. Until then we have a lot of preparations and briefings to do."
Stay up to date on the latest science news by signing up for our Essentials newsletter.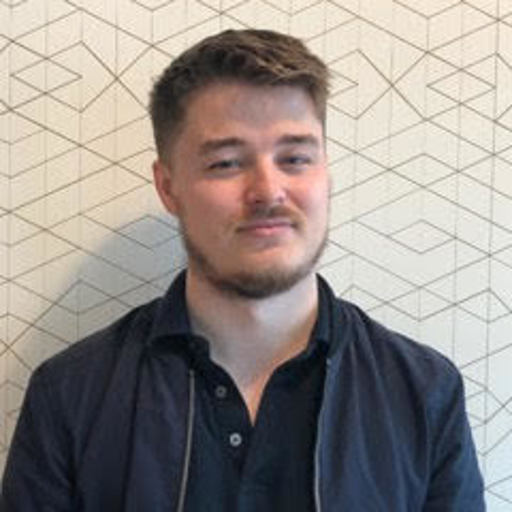 Ben Turner is a U.K. based staff writer at Live Science. He covers physics and astronomy, among other topics like tech and climate change. He graduated from University College London with a degree in particle physics before training as a journalist. When he's not writing, Ben enjoys reading literature, playing the guitar and embarrassing himself with chess.