Medieval religious hermit buried in 'extremely unusual' position had syphilis
The unusual skeleton of a holy woman buried in a crouched position in medieval times has been identified.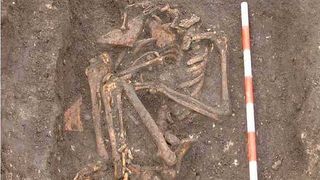 (Image credit: On Site Archaeology)
The skeletal remains of a medieval anchoress — essentially a religious hermit — buried in an unusual, crouched position at a church site in England died with syphilis and arthritis, archaeologists discovered.
The findings raise questions about how a religious hermit could have acquired a sexually transmitted infection (STI), but may potentially explain her unusual burial position.
The skeleton was unearthed in 2007 during a dig at All Saints Church in York. Archaeologists think that the remains possibly belong to Lady Isabel German, who lived a life of seclusion inside a single room at the church during the 15th century, according to a study published Dec. 16 in the journal Medieval Archaeology.
What struck the archaeologists was how the woman was entombed in a tightly crouched position inside a small room located behind the church's altar. The odd positioning of the body is considered a rarity for burials during this time period.
"The location of the skeleton in the apse suggests this was a woman of high status," study first author Lauren McIntyre, an osteoarchaeologist at Oxford Archaeology Limited in England, said in a statement, "but the crouched burial position is extremely unusual for the medieval period."
The new study suggests that Lady Isabel's positioning could have been caused by either her arthritis or the tight burial space allotted to her. It's also possible she died in that position and that rigor mortis set in before she could be buried, the authors wrote in the study.
Related: 17 skeletons unearthed at medieval friary in UK
After doing radiocarbon dating and analyzing the remains, the researchers determined that the anchoress "was living with septic arthritis and also advanced venereal syphilis. This would have meant she lived with severe, visible symptoms of infection affecting her entire body, and later on, neurological and mental health decline," McIntyre said.
The study researchers did note the possibility that the single bone that exhibited syphilis — a part of the skull that sat apart from the individual — may have come from a different skeleton whose remains were "found on the opposite side of the cemetery site." However, they did find several lesions elsewhere on the skeleton that suggested syphilis, according to the study.
While researchers can only speculate as to how she acquired an STI while living a life of seclusion, they think it's possible that the disease either lay dormant during the 28 years that Lady German lived onsite, according to contemporaneous documentation, or that by isolating herself, she believed she was doing penance for acquiring the often disfiguring STI, which can reveal itself in the form of sores and rashes pockmarking the body, according to the Centers for Disease Control and Prevention (CDC).
"We have no information about the circumstances under which this occurred. Sexual contact may have occurred during consensual relations or non-consensual occurrences, such as rape," the authors wrote in the study.
"Lady German lived in a period of history where we typically think of there being a strong association between visible and disfiguring illnesses and sin, with that type of suffering seen as a punishment from God," McIntyre said in the statement. "While it is very tempting to suggest that someone with visible disfiguring disease would be shunned or want to commit to living as an anchoress as a way to hide from the world, this research has shown that this might not be the case. Such severe disease could also have been viewed positively, being sent by God to grant martyr-like status to someone special."
Stay up to date on the latest science news by signing up for our Essentials newsletter.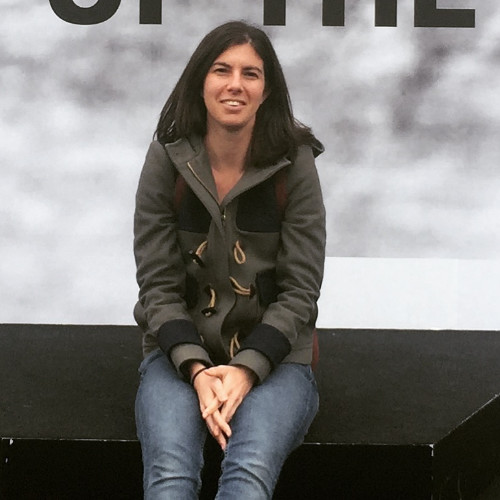 Live Science Staff Writer
Jennifer Nalewicki is a Salt Lake City-based journalist whose work has been featured in The New York Times, Smithsonian Magazine, Scientific American, Popular Mechanics and more. She covers several science topics from planet Earth to paleontology and archaeology to health and culture. Prior to freelancing, Jennifer held an Editor role at Time Inc. Jennifer has a bachelor's degree in Journalism from The University of Texas at Austin.