Incantation bowls covered with 'magic' spells recovered by police in Jerusalem
It's unclear if these artifacts are the real deal.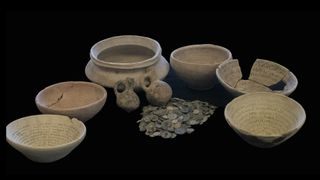 (Image credit: Photo by Yoli Schwartz/Israel Antiquities Authority)
Hundreds of artifacts, including crafted ivory and three "incantation bowls" decorated with ancient magical spells, have been recovered by police in Jerusalem.
However, it's unclear whether all of the artifacts are authentic. Live Science talked with a number of scholars, who provided insight into the artifacts and cautioned that some of them may be forgeries.
Police suspect that the artifacts were looted from sites in the Middle East or stolen from museums, according to a March 7 statement from the Israel Antiquities Authority (IAA). Many of the artifacts, including the incantation bowls, date to between the fourth and eighth centuries A.D. the statement said, and some look similar to bowls that were crafted in what is now Iraq.
"The text [on the bowls] was written by artists for a specific client, according to their personal needs," Amir Ganor, head of the IAA's robbery prevention division, said in the statement, noting that the incantations could have been used to fight off disease, curses and even demons. "Occasionally, as can be seen in one of the bowls, a figure of the 'night' demon was painted in the center of the bowl, representing the individual that the bowl was meant to ward off," Ganor said. Many incantation bowls appeared on the antiquities market after the 2003 U.S.-led invasion of Iraq, Ganor added.
Related: 30 of the world's most valuable treasures that are still missing
In this case, the artifacts were seized from a residential home and an auction house in an operation carried out jointly by the IAA's robbery prevention unit and local police, the statement said.
"Antiquities belong to all of us. They are our heritage," Eli Escosido, director-general of the IAA, said in the statement. It's not clear if or when the artifacts will be repatriated. Iraq and Israel do not have diplomatic relations, and the exact origins of some of the artifacts are uncertain. That said, the bowls are covered with historic clues. The text on them is in a "Babylonian Aramaic language," the statement said. More than a millennium ago, large Jewish communities in Iraq frequently created bowls such as these.
Police also recovered a number of ivory artifacts covered with detailed drawings, including some with "scenes from the animal world, alongside geometric ornaments," IAA representatives said in the statement. Some of the recovered ivory artifacts originally may have been attached to furniture. Additionally, the police found ancient coins, glassware and weapons during the operation.
What do the incantation bowls say?
Live Science talked with several scholars to learn more about what the incantation bowls say. It will take weeks for a full translation and analysis of the bowls to know for sure, Marco Moriggi, an associate professor of humanities at the University of Catania in Italy, said, noting that it's possible that the bowls are forgeries.
"Please do further consider that many forgeries have been found in both public and private collections," Moriggi told Live Science in an email.
The text on one of the bowls says that it was written for a man named "Pahira bar Mahlapta" and asks that his property, including his food and drink, be protected from harm, Christa Müller-Kessler, a professor at the Institute for Oriental Studies at Friedrich Schiller University Jena in Germany, told Live Science in an email.
Another jar written for someone named "Aḥoy bar Marganita" lists many angels, Müller-Kessler said. The angels include "Gabriel, Michael, Raphael [and] Nahariel," said Ohad Abudraham, a postdoctoral researcher in Hebrew and Semitic linguistics at Tel Aviv University. The text includes a biblical verse from Psalms 121:7–8, which is part of the "Songs of Ascent," Abudraham said. It says that "the Lord will keep you from all evil; He will keep your life. The Lord will keep your going out and your coming in from this time on and for evermore."
Related: In photos: Looting across Egypt
Another bowl written for someone named "Maḥlapta bat Aḥa" begins with the phrase "The lot is cast" and asks that the client be "divorced" from a demon, Müller-Kessler said. It ends with a biblical phrase from Isaiah 50:11: "But all of you are kindlers of fire, and among the brands that you have kindled! This is what you shall have from my hand: you shall lie down in torment." Numerous other examples of incantation bowls asking for a "divorce" from a demon are known to scholars.
The names given in these bowls "are alias names used for magical purposes and astrological aims," Müller-Kessler told Live Science. The aliases refer to the mother of the person using it — something considered "very important to make the protective spells work," Müller-Kessler said. The use of aliases that refer to the mother is also commonly seen in incantation bowls.
These initial translations, however, didn't reveal anything extraordinary. "The bowl texts in question do not contain anything new or spectacular concerning their formulas or contents," Müller-Kessler said.
Ivory artifacts
At least two of the several recovered ivory artifacts sport sphinxes — creatures with a human head, body of a lion and wings. "Sphinxes are common imagery on Levantine ivory carving," Amy Gansell, an associate professor of art history at St. John's University in New York, told Live Science in an email. Sphinxes were also popular in ancient Egypt, the most famous example being the sphinx on the Giza plateau.
Some parts of the ivory artifacts may be modern-day additions. "The red in the outlines is probably modern pigment that was rubbed into the carved lines to make the lines more visible to viewers today," said Gansell, who looked at photos of the recovered ivory.
Other scholars raised concerns about the authenticity of the ivories. "I have not had a chance to examine the ivories in person, but judging from the photos, I would be cautious, and not easily assume these artifacts to be authentic," said Liat Naeh, an archaeologist at the University of Toronto who specializes in the art and archaeology of the ancient Middle East and who has worked extensively on Levantine ivories, told Live Science in an email.
The IAA reported finding chemicals in the home that police raided. Those chemicals "may have potentially been used for home-made restoration and/or forgery of antiquities," Naeh said. "Even if these were ancient ivory pieces, it is possible that they were recently altered in order to make them more appealing to buyers in the antiquities market."
"If these ivories were authentic — and we will never be able to know for sure — they would be more similar in style and technique to Assyrian ivories known from the area that is now Iraq, or perhaps to some ivories known from Hasanlu, now Iran — from around the 9th and 8th centuries BCE," Naeh added.
In Israel, antiquities can be sold legally by licensed dealers under certain circumstances. But Israel's government should ban this trade to help prevent the looting and selling of artifacts, she said.
"We know that both forgeries and stolen antiquities find their way from such countries as Iraq, Syria, Egypt, and others, into Israel, where a loophole still allows for some antiquities to be legally sold," Naeh said. "This is the real story here: Why does Israeli law still allow for some antiquities to be legally traded, enabling such 'collectors' to thrive in Israel?"
Originally published on Live Science.
Stay up to date on the latest science news by signing up for our Essentials newsletter.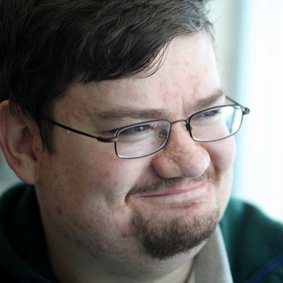 Owen Jarus is a regular contributor to Live Science who writes about archaeology and humans' past. He has also written for The Independent (UK), The Canadian Press (CP) and The Associated Press (AP), among others. Owen has a bachelor of arts degree from the University of Toronto and a journalism degree from Ryerson University.