Lung cancer pill drastically cuts risk of death after surgery
Taking the drug Tagrisso daily after surgery reduced non-small cell lung cancer patients' death risk by more than 50%.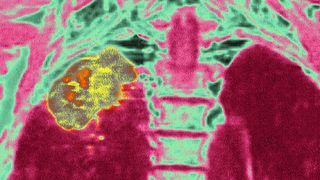 (Image credit: BSIP via Getty )
A once-daily pill halved people's risk of dying from a common lung cancer when they took the drug after tumor-removal surgery, new trial data shows.
Made by the biopharmaceutical company AstraZeneca, Tagrisso, also known as osimertinib, reduced the five-year risk of death in lung cancer patients by 51%, according to a study published Sunday (June 4) in The New England Journal of Medicine. Researchers presented this data at the American Society of Clinical Oncology (ASCO) meeting in Chicago (June 2-6).
The study was the result of a 682-patient trial that included participants diagnosed with non-small cell lung cancer (NSCLC), one of two main types of primary lung cancer. All patients also had a mutation in the epidermal growth factor receptor (EGFR) gene, which codes for a protein found on the surface of cells. EGFR mutations can boost cancer's ability to grow and spread, raising patients' risk of cancer recurrence post-treatment.
Related: Does it matter what time of day you get cancer treatment?
Osimertinib essentially works by blocking the effects of common EGFR mutations, according to the new report. Such mutations are present in about 25% of lung cancer patients worldwide, according to The Guardian.
"Thirty years ago there was nothing we could do for these patients," study co-author Dr. Roy Herbst, deputy director of the Yale Cancer Center in New Haven, Connecticut, said at the ASCO meeting, The Guardian reported. "Now we have this potent drug. Fifty percent is a big deal in any disease, but certainly in a disease like lung cancer, which has typically been very resistant to therapies."
Approximately 80% to 85% of all lung cancers are NSCLC. Each year more than 127,000 Americans die from lung cancer, according to the American Cancer Society.
Patients in the trial received either a placebo or osimertinib. Five years after having their tumors surgically removed, 88% of patients who took osimertinib were still alive, compared with 78% of the placebo patients, according to the study.
"A five-year overall survival rate of 88% is incredibly positive news," Angela Terry, chair of the nonprofit EGFR Positive UK who was not involved in the study, told The Guardian. "Having access to a drug whose efficacy is proven and whose side effects are tolerable means patients can be confident of and able to enjoy a good quality of life for longer."
Unfortunately, not all lung cancer patients are tested for the EGFR gene, Herbst said. "This further reinforces the need to identify these patients with available biomarkers at the time of diagnosis and before treatment begins," he said.
Tagrisso was first approved by the U.S. Food and Drug Administration in 2017, when the pill was cleared as a treatment for patients with advanced NSCLC whose tumors carried certain EGFR mutations. In 2020, the pill was approved as the cancer's first "adjuvant treatment" for after tumor removal, based on earlier data from the same trial described in this article.
Stay up to date on the latest science news by signing up for our Essentials newsletter.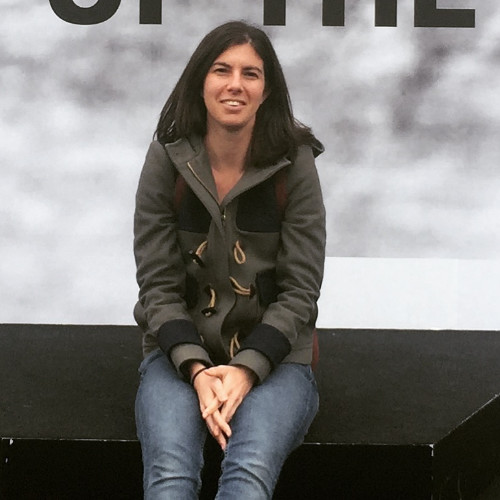 Live Science Staff Writer
Jennifer Nalewicki is a Salt Lake City-based journalist whose work has been featured in The New York Times, Smithsonian Magazine, Scientific American, Popular Mechanics and more. She covers several science topics from planet Earth to paleontology and archaeology to health and culture. Prior to freelancing, Jennifer held an Editor role at Time Inc. Jennifer has a bachelor's degree in Journalism from The University of Texas at Austin.
Hallo!: A very interesting and promising new drug for NSCLC, in the quite old EGFR agents class, however, discussing a new drug under its Propietary Name Tagrisso in a non-medical forum, and not by its INN Osimertinib, is not acceptable, could be considered advertising against FDA; EMEA and other drug agencies policies, also citation of INN is of dubious morality.
Please delete this commercial brand from article.
Blessings +

Reply