Wishing well used for Bronze Age 'cult rituals' discovered in Bavaria
Items found in the wishing well include well-preserved pottery, jewelry, beads and an animal tooth.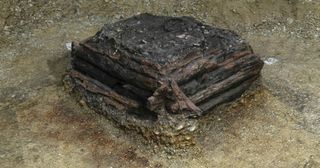 (Image credit: The Bavarian State Office for Monument Protection)
Archaeologists in Bavaria, Germany, have unearthed a 3,000-year-old wooden wishing well overflowing with more than 100 artifacts dating to the Bronze Age.
Unlike modern-day wishing wells, where people toss in coins and make a wish, the items in this well were placed there for "ritual purposes" in what is now the Bavarian town of Germering. The artifacts included more than 70 well-preserved clay vessels, including numerous decorative bowls, cups and pots that were used for special occasions and not "simple everyday crockery," according to a translated statement.
Archaeologists also found more than two dozen bronze robe pins, a bracelet, four amber beads, two metal spirals, a mounted animal tooth and a wooden scoop.
Related: Face of wealthy Bronze-Age Bohemian woman revealed in stunning reconstruction
"It is extremely rare for a well to survive more than 3,000 years so well," Jochen Haberstroh, an archaeologist with the Bavarian State Office for Monument Conservation, said in the statement. "Its wooden walls are completely preserved on the ground and partly still moistened by groundwater. That also explains the good condition of the finds made of organic materials, which are now being examined more closely. We hope that this will provide us with more information about the everyday life of the settlers at the time."
Based on the excellent preservation of the artifacts alone, researchers think villagers likely offered the items for "cult rituals" and that they "were lowered into the well," as opposed to the modern-day act of tossing coins into the water, according to the statement.
"They were intended as sacrifices for a good harvest," Mathias Pfeil, general conservator for the Bavarian State Office for Monument Conservation, said in the statement.
The December archaeological dig was conducted prior to the construction of a distribution center in the area. Since 2021, archaeologists have unearthed more than 13,500 artifacts dating to the Bronze Age and the early Middle Ages where the construction project is taking place.
Objects from the wishing well are currently being studied by researchers at the Bavarian State Office for Monument Conservation, and later this year, the artifacts will become part of the collection at the Germering City Museum of Science, according to the statement.
Stay up to date on the latest science news by signing up for our Essentials newsletter.
Live Science Staff Writer
Jennifer Nalewicki is a Salt Lake City-based journalist whose work has been featured in The New York Times, Smithsonian Magazine, Scientific American, Popular Mechanics and more. She covers several science topics from planet Earth to paleontology and archaeology to health and culture. Prior to freelancing, Jennifer held an Editor role at Time Inc. Jennifer has a bachelor's degree in Journalism from The University of Texas at Austin.