Divers recover US airman's remains from WWII bomber wreck near Malta
The remains have been identified as those of a gunner killed when the badly damaged aircraft crashed into the sea in 1943.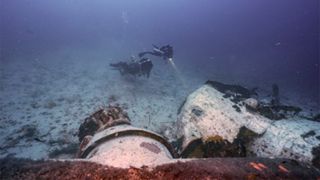 (Image credit: DPAA/University of Malta)
Archaeological divers have recovered human remains from the wreck of a U.S. bomber that crashed near the Mediterranean island of Malta in May 1943.
Scientific analysis by the Defense POW/MIA Accounting Agency (DPAA) has confirmed the remains are those of U.S. Army Air Forces (USAAF) Sgt. Irving R. Newman, who was 22 years old when the aircraft — a B-24 Liberator based in Libya — suffered engine trouble and was hit by anti-aircraft fire during a bombing raid over the southern tip of Italy.
The bomber then tried to reach Malta — an emergency landing site for Allied aircraft in trouble — but the aircraft lost power as it approached the island. Nine of the bomber's crew survived the crash landing on the water's surface. They tried to rescue Newman, who had been injured by anti-aircraft fire, but the aircraft sank after a few minutes, taking Newman with it.
The wreck now lies about a mile (1.6 kilometers) off Malta's southernmost point, about 190 feet (58 meters) beneath the water's surface.
Although the first dives to the wreck were made in 2018, Newman's remains were not recovered until this June, Timmy Gambin, a maritime archaeologist at the University of Malta who led the dive recovery team, told Live Science.
Related: 30 incredible sunken wrecks from WWI and WWII
Deep dive
The University of Malta's maritime archaeology research program started looking for the submerged bomber wreck in 2015, following reports that the aircraft had crashed there in 1943.
The team located the wreck in 2016 using side-scan sonar, which creates an image of the seafloor. It was then mapped with sonar on an autonomous underwater vehicle, and photogrammetric images were used to create a detailed 3D model.
The site is deep for scuba divers, so the recovery team maximized their time by using breathing gases with more helium and oxygen than normal and "rebreather" technology — equipment that absorbs carbon dioxide and recycles other gases. But even with these measures they were limited to working just 45 minutes a day on the wreck, and the excavation to recover Newman's remains took two months of diving — one in 2022 and another in 2023, Gambin said.
Newman had been a gunner on the bomber, and the excavation of his remains was "very challenging because of the ragged edges and the unstable nature of the site," he said.
American bomber
The divers also recovered a 50-millimeter machine gun and other artifacts, but "the main aim of the project was to locate and recover the missing airman," Gambin said.
During World War II, more B-24 Liberators were manufactured than any other American bomber — more than 18,000 by the war's end. The first was produced in 1941, and they were used extensively in bombing raids over Europe. Many B-24s were given nicknames — Hollywood actor Jimmy Stewart piloted one dubbed "Male Call" — but the Liberator that crashed near Malta doesn't seem to have had a moniker.
Malta's waters are strewn with shipwrecks of every kind and from every age, but the B-24 Liberator wreck stands out.
"To have a USAAF bomber in Maltese waters is very unusual because these never flew out of Malta's airfields," Gambin said. "However, we are very glad that we did find it and contributed to providing closure for Sergeant Newman's family."
Stay up to date on the latest science news by signing up for our Essentials newsletter.
Tom Metcalfe is a freelance journalist and regular Live Science contributor who is based in London in the United Kingdom. Tom writes mainly about science, space, archaeology, the Earth and the oceans. He has also written for the BBC, NBC News, National Geographic, Scientific American, Air & Space, and many others.
They found and recovered a .50 caliber machine gun, not a 50mm.

Reply