2,300-year-old scissors and 'folded' sword discovered in a Celtic cremation tomb in Germany
Archaeologists in Germany have unearthed a folded sword, scissors and other artifacts at a Celtic cremation tomb.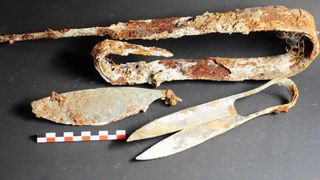 (Image credit: Maximilian Bauer, Bavarian State Office for the Preservation of Monuments)
Archaeologists in Germany have unearthed a stash of grave goods — including a folded sword that may have been used in battle and an "exceptionally good" pair of scissors — inside a 2,300-year-old Celtic cremation tomb.
Based on the variety of the artifacts, which also include a portion of a shield, a razor, a fibula (clasp), a belt chain and a spearhead, researchers think that a man and a woman were buried there. Between the third century B.C. and second century B.C. the Celts — who lived in mainland Europe — burned their dead and buried their remains in pits alongside their belongings, according to a translated statement.
An excavation team searching for explosive devices leftover from World War II discovered the items by chance, according to the statement.
The burial is a remarkable find, however, one grave good caught the attention of researchers: the pair of left-handed scissors.
"The scissors in particular are in exceptionally good condition," Martina Pauli, an archaeologist with the Bavarian State Office for the Preservation of Monuments in Munich, told Live Science in an email. "One would almost be tempted to cut with it. The scissors were used — as they are today — for cutting, but could also be used in the craft sector, for example in leather processing or sheep shearing."
Related: 2,000-year-old Celtic hoard of gold 'rainbow cups' discovered in Germany
While the nearly 5-inch-long (12 centimeters) shears were likely used for day-to-day tasks, Pauli thinks that the weaponry, including the folded sword, was "most likely used in battle." It is "quite typical" to find Celtic swords folded in graves in this fashion, she added.
Prior to the burial, the sword "was heated, folded and thus rendered unusable" and would have measured 30 inches (76 cm) in length, according to the statement.
"There are different interpretations [that] range from a very profane point of view, namely that the sword simply had [a] better place in the grave, to a cultic interpretation," Pauli said. "There could be a variety of motivations for permanent disabling: prevention of grave robbers, fear of revenants [bodies rising from the dead], and the like."
Pauli added, "The burial objects indicate socially superior people to whom these heavy metal finds were added. The men's burial could be that of a warrior, as indicated by the weapons. The belt chain from the woman's grave served as a belt that held together and adorned the robe, perhaps a dress, at the hips. The singular fibula from the woman's grave was also used to fasten a coat together on the shoulder."
The items were recovered and brought to the state office for monument protection for safekeeping.
Stay up to date on the latest science news by signing up for our Essentials newsletter.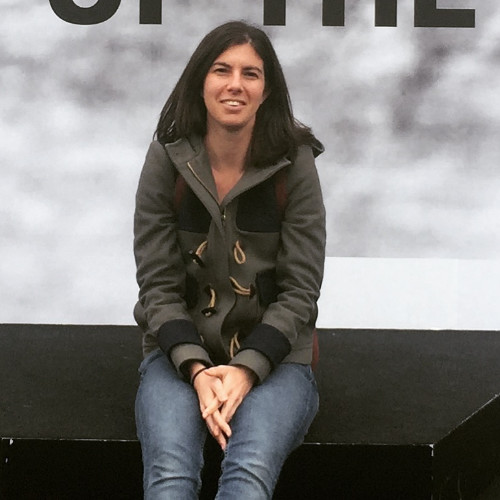 Live Science Staff Writer
Jennifer Nalewicki is a Salt Lake City-based journalist whose work has been featured in The New York Times, Smithsonian Magazine, Scientific American, Popular Mechanics and more. She covers several science topics from planet Earth to paleontology and archaeology to health and culture. Prior to freelancing, Jennifer held an Editor role at Time Inc. Jennifer has a bachelor's degree in Journalism from The University of Texas at Austin.