The Pill Linked to Low Libido in Women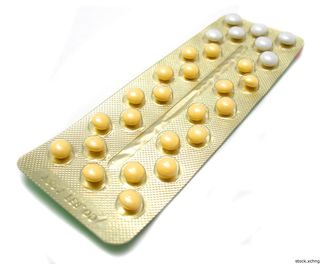 (Image credit: stock.xchng)
Women who use hormonal contraceptives, such as birth control pills and skin patches, are more likely than others to have low sex drive, suggests a new and remarkably simple study.
Female sexual dysfunction (FSD), which includes low libido and sexual satisfaction, is a medical condition that has been linked to stress, biological vulnerability, and relationship factors. But until now not much research had been done on what is perhaps an obvious question: Does the use of contraceptives that take a direct hit at chemicals responsible for managing a woman's sexual organs affect their sex drive?
Researchers analyzed a survey of 1,046 female medical students who used a single kind of birth control and who had been sexually active in the preceding four weeks. Of these women, 32.4 percent were considered at risk for FSD, and 20.4 percent for any of a slew of other sexual dysfunctions, including arousal disorder, decreased lubrication, hypoactive sexual desire disorder, and pain during intercourse.
Women who scored highest on sexual function were those who used nonhormonal contraceptives. In addition, smokers scored higher in total sexual function than did non-smokers.
The study's results are highly preliminary and only show association, not causality, said study researcher Dr. Alfred Mueck of the University-Hospital of Tuebingen in Germany. Still, the link between hormonal contraceptives and risk for sexual dysfunction opens a fascinating new door into a tenacious women's health problem.
"FSD is a very common disorder, with an estimated prevalence of about two in five women having at least one sexual dysfunction, and the most common complaint appearing to be low desire," said study researcher Dr. Lisa Maria Wallwiener of the University of Heidelberg.
Hormonal contraceptives for females, such as the Pill, work by tricking the body into thinking it's already pregnant through the use of synthetic hormones that inhibit the release of their genuine counterparts, which allow for ovulation (the fertile stage of the menstrual cycle when an ovary produces an egg).
"In future research it would be interesting to see if there is a difference between the dosage of estrogen and the various synthetic progestins used in hormonal contraceptives in terms of an impact on female sexual function," said study researcher Dr. Harald Seeger.
Until now, studies had shown that the hormone testosterone, rather than progestins and estrogen, was responsible for arousal and genital performance in women. One possible explanation for the new results: Hormonal contraceptives may also damage levels of circulating testosterone, thus dampening the capacity for sexual desire and response, the researchers write in this week's issue of the Journal of Sexual Medicine.
"Testosterone should be the most important hormone in context with effect on libido," Mueck told LiveScience, adding that "discussions about effects of other hormones on the efficacy of testosterone are important ... By certainty the effects of hormonal contraceptives on sexual function are more complicated [than previously understood]."
Top 10 Aphrodisiacs
Top 10 Surprising Sex Discoveries
Stay up to date on the latest science news by signing up for our Essentials newsletter.