Ho, Ho, Ho: Arrested Johns Avoid Prostitutes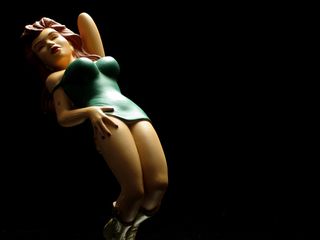 Men arrested for buying sex from prostitutes are much less likely to continue their call-girl activity compared to men not arrested for such behavior, according to new research.
"Our findings are unexpected, because previous studies of youth indicated that arrest had no effect on, or even increased, their delinquent and criminal behavior," said lead researcher Devon Brewer, director of the research firm Interdisciplinary Scientific Research.
Past studies have found that arrest of young adults for minor crimes, such as marijuana-related offenses, has little deterrent effect compared with those who escape arrest. The police contact could actually escalate the illegal behavior in some cases.
Plus, research tends to focus on the prostitutes themselves, paying little attention to their customers.
Street sex
The scientists compared rates of arrest for two groups of men trying to hire a prostitute in Colorado Springs, Colorado between 1970 and 2000. One group included men who had been arrested by the police, and the other group comprised sex-buyers detected at public health facilities when men sought HIV testing or in a large health department study of prostitutes and their sex partners.
Clients identified by the police were typically caught in stings in which female police officers posed as decoys. There is little a client can do to detect a decoy or avoid arrest once he negotiates a price for a sex act.
The two groups were otherwise comparable, so a difference in arrest rates would tell the scientists whether arrest deters men from buying street sex.
Upstanding gentlemen?
They found arrest reduced the likelihood of another arrest by 70 percent. The researchers also examined records from several U.S. states and found that after being arrested, the men didn't seek out prostitutes in different jurisdictions or those in off-street settings.
The findings, detailed this month and the scientific journal PLoS ONE, suggest simply arresting and prosecuting clients for soliciting a prostitute is a significant deterrent.
Arrest could keep men from street corners because they generally are otherwise law-abiding, Brewer suggested. So another arrest could mar their reputations, and at the very least, trigger conflicts with wives or girlfriends.
In another study, scientists found that arrested clients in Edmonton, Alberta had never told anyone about their sex-buying behavior.
In Sweden a new law—and its enforcement—against patronizing appears to have dramatically reduced street prostitution, the researchers said.
Street-corner myths
"However, because only a very small percentage of clients in a community are arrested, other strategies and increased enforcement may be necessary to reduce the demand for prostitution further," Brewer said.
For instance, to reduce prostitution and hold clients equally responsible for its existence, several educational programs have sprung up across the United States. These workshops and classes, some called "john schools," focus on street-corner customers.
One of these programs, Sexual Exploitation Education Project (SEEP) located in Portland, Ore., began in 1995 and closed its doors in 1997 due to lack of funding. While open, the workshops challenged many popular understandings of prostitution. For instance, it informed men about the high levels of violence experienced by prostitutes. In addition, the program educators argued that in an environment of violence, coercion by pimps, dire economic circumstances and drug addiction, prostitution is not always consensual.
Brewer said that in the future, studies should evaluate whether expanded and intensified law enforcement against patronizing can reduce prostitution further.
Human Nature: What We Learned in 2006
The Sex Quiz: Myths, Taboos and Bizarre Facts
The Weirdest Science Stories of 2006
Stay up to date on the latest science news by signing up for our Essentials newsletter.
Live Science Editor-in-Chief
Jeanna served as editor-in-chief of Live Science. Previously, she was an assistant editor at Scholastic's Science World magazine. Jeanna has an English degree from Salisbury University, a master's degree in biogeochemistry and environmental sciences from the University of Maryland, and a graduate science journalism degree from New York University. She has worked as a biologist in Florida, where she monitored wetlands and did field surveys for endangered species. She also received an ocean sciences journalism fellowship from Woods Hole Oceanographic Institution.