Muscle and Bone Printed With Bio-Ink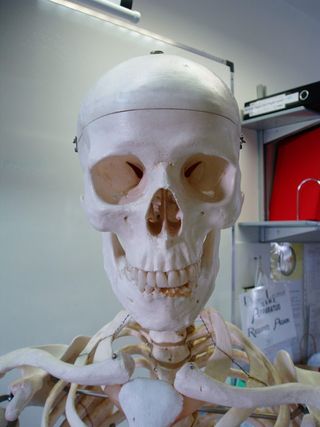 Many people suffer with parts of their bodies that are just worn out, like hips and knees, or are damaged by disease processes, like arthritic joints. The first steps in being able to create complex body structures have been taken by researchers at Carnegie Mellon and the University of Pittsburgh. The results were presented on December 10th at the 46th annual meeting of the American Society for Cell Biology in San Diego.
A unique ink-jet printing system using bio-ink that can lay down a pattern of cells that will differentiate into a designed pattern of both bone and muscle cells has been created by a team of scientists from the two universities.
The researchers began with a glass slide with a layer of nurturing proteins as a base. They then used a robotic inkjet-style machine to lay down a specific pattern of tiny droplets of various proteins.
"It is like laying ink on paper," researcher Julie Jadlowiec Phillippi said. "It's a blueprint for cells to live and grow and differentiate with."
Then the muscle-derived stem cells (MDSCs) from mice were placed on top of this pattern to grow. "Depending on which pattern they are on top of, they become one lineage or another," she remarked.
This system is the first that can lay down a pattern of multiple cell types within the same vessel from a single population of adult stem cells. This system could one day benefit millions of people whose tissues have been damaged from genetic diseases, accidental trauma and even wear-and-tear from aging joints.
"Our findings showed that we successfully engineered MDSCs (muscle-derived stem cells) to become subpopulations of muscle or bone-like cells that were patterned using our bio-ink-jet system," said Phillippi. "This experiment represents a key first step in demonstrating the potential of this technology to learn more about not only the basic biology of how multiple cell types are patterned in the body during development, repair and regeneration, but also for translating adult stem cells into real therapies for patients in the future."
Because the ink-jet system employs such precision, it could be used one day to co-culture multiple MDSC lineages - including bone, muscle, fat, sinew and other cell types - in complex, patterned configurations that could be incorporated directly into specific areas of the body in need of repair of multiple tissue types.
Take a look at this article on printing biomaterials with modified ink-jet printers for more about this technology.
Interested in futuristic medical advances?
Via Muscle and bone from an ink-jet printer.
(This Science Fiction in the News story used with permission from Technovelgy.com - where science meets fiction.)
? Printable Skin: 'Inkjet' Breakthrough Makes Human Tissue
Stay up to date on the latest science news by signing up for our Essentials newsletter.
Bill Christensen catalogues the inventions, technology and ideas of science fiction writers at his website, Technovelgy. He is a contributor to Live Science.