Doctors Paid up to $5,000 to Recruit Human Guinea Pigs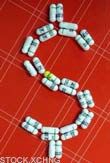 If your doctor suggests you're the perfect candidate for some clinical trial, you might ask how much he's getting paid to recruit you.
Finders fees from $2,000 to $5,000 are common, say University of Toronto researchers Trudo Lemmens and Paul Miller. The fees are being paid to physicians, nurses and other health care professionals.
The tactic is on the rise, the researchers write in the journal PLoS Medicine, because there are more drugs in development and so more trials being conducted, creating greater competition between drug companies to find participants.
The need for speed is a factor, too: Delays in getting a drug to market can mean lost profits.
But paying for patients "may interfere with the judgment of physicians trusted by patients to act in their best interests," the researchers write. It also could compromise patient safety and, ultimate, erode public trust in clinical research, they add.
"The problems raised by finder's fees cannot be resolved by focusing exclusively on sanctioning the individuals who may accept them," Lemmens and Miller argue. Instead, the problems ought to be addressed "as part of a broader institutional and regulatory reform effort designed to address weaknesses in research governance."
Much of the data supporting the argument by Lemmens and Miller comes from the 1990s, but they say the tactic of paying finder fees has until now not received much attention.
Among the U.S. statistics they cite:
In 1998, there were 3,278 drugs in pre-clinical testing, up 26.8 percent from 1995.
Clinical trials supporting new drug approval applications averaged 4,237 participants in 1995, an increase of 2,916 in one decade.
Between 1988 and 1998, the number of community-based physicians participating in research increased by 60 percent.
Lemmens and Miller also cite an experimental cancer drug study at the Veterans Affairs hospital in Albany, NY, in which five patients died. The FDA concluded that some patients' medical records were altered to allow their enrollment even though they were either too sick or too healthy to qualify. The hospital reportedly received a fee of $5,000 for each patient enrolled. A junior researcher pled guilty to criminally negligent homicide in the case.
The new research was supported by a grant from the Ontario Genomics Institute (Genome Canada) and was also supported by the Institute for Advanced Study, Princeton, New Jersey.
Please Have a Seat: Wait for the Doctor Gets Longer
Stay up to date on the latest science news by signing up for our Essentials newsletter.
Robert is an independent health and science journalist and writer based in Phoenix, Arizona. He is a former editor-in-chief of Live Science with over 20 years of experience as a reporter and editor. He has worked on websites such as Space.com and Tom's Guide, and is a contributor on Medium, covering how we age and how to optimize the mind and body through time. He has a journalism degree from Humboldt State University in California.