Robot Submarine Will See What Lies Beneath Antarctica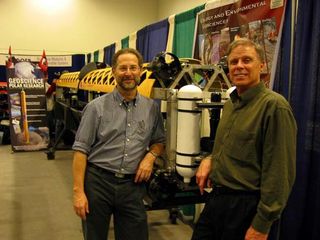 (Image credit: DOER Marine/NIU)
SAN FRANCISCO – A cigar-shaped robot submarine that can pull off a neat collapsing trick is readying for a first-time adventure below the Antarctic ice.
The robot's destination: the Ross Ice Shelf, which juts out from Western Antarctica like a floating tongue. Scientists expect a never-before-seen view of melting and other conditions in the pocket of ocean below the ice shelf, where the warming seawater is eating away at the ice.
"It's designed to go into an area where no man has been before and probably never will," said Ross Powell, a geologist at Northern Illinois University.
Powell presented the robot's capabilities here at the 2010 fall meeting of the American Geophysical Union.
The icy world below
Scientists plan to use a jet of hot water to bore down more than 2,600 feet (800 meters), giving the robot an ocean entryway only 30 inches (76 cm) wide. But that would be enough for the 28-foot-long (8.5 meters) Antarctic robot in its vertical cigar shape, 22 inches (56 centimeters) wide.
Once it gets in the water, it flattens and expands outward. It can collect images as well as physical, chemical and biological measurements of the ice, water and sediment below the shelf, and transmit them to the surface through a 2-mile-long (3 kilometer) cable.
Different boreholes will be used for each of the robot's visits, up to 10 days at a time, but scientists also hope to obtain a long-term view of the conditions below the ice shelf.
"We're going to leave a tethered profile that is going to profile the ocean water for a year to get an understanding of how the conditions change," Powell explained.
Back to the surface
The robot could stay down almost indefinitely because it gets power from surface generators, rather than operating on its own battery power. But an indefinite stay would mean that something had gone very wrong, the researchers joked.
Robotics engineers at DOER Marine of San Francisco designed a fail-safe for the robot in case of catastrophe. If the robot lost power, it would collapse hydraulically into its vertical form so that scientists could haul it up by the attached cable.
"That's the big headache for the engineers designing this, because we do want it back," Powell said.
Preparing for descent
Powell and Reed Scherer, another geologist at Northern Illinois in DeKalb, plan to take their robot out for a test dive in Lake Tahoe between California and Nevada in March 2011.
They will then undertake the long journey to Antarctica for testing around McMurdo Station in 2011 and 2012, before deploying the robot to investigate a lake below the Antarctic ice sheet around 2013. Finally, they will send the robot below the Ross Ice Shelf in 2013 or 2014.
The researchers hope that technology may have gotten good enough by then to stream high-definition video back to museums, so that visitors can get a real-time glimpse of the underwater exploration.
Image Gallery: Ice of the Antarctic
This article was provided by OurAmazingPlanet, a sister site of LiveScience. You can follow Jeremy Hsu on Twitter at @ScienceHsu.
Stay up to date on the latest science news by signing up for our Essentials newsletter.
Jeremy has written for publications such as Popular Science, Scientific American Mind and Reader's Digest Asia. He obtained his masters degree in science journalism from New York University, and completed his undergraduate education in the history and sociology of science at the University of Pennsylvania.