WD-40: Strange Facts and Myths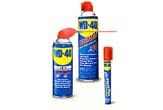 John S. Barry, the man "who masterminded the spread of WD-40," as The New York Times puts it, has died at age 84. The product he promoted is more popular than an iPod.
WD-40 can be found in 4 out of 5 American households, the company claims. Its ingredients are a secret, and it has generated its share of myths and strange applications over the years.
Barry didn't invent the stuff. "Norm Larsen, founder of Rocket Chemical Company, is considered the original founder of WD-40," according to wd40.com.
Larsen aimed to develop a line of rust-prevention solvents and degreasers for use in the aerospace industry. He succeeded at the goal, Water Displacement, on the 40th attempt, hence the name.
"Convair, an aerospace contractor, first used WD-40 to protect the outer skin of the Atlas Missile from rust and corrosion," according to the web site.
A few years later the company made an aerosol spray version and the rest, as they say, is history.
WD-40 does not contain fish oil, contrary to a popular myth, nor does it contain silicone, kerosene, water, wax, graphite, chlorofluorocarbons (CFCs).
And WD-40 won't cure arthritis, despite another odd myth (Windex, however, cures everything, if you believe the Dad in "My Big Fat Greek Wedding").
It has been put to these uses, the company says: A bus driver in Asia used WD-40 to remove a python, which had coiled itself around the undercarriage of his bus; police officers used WD-40 to remove a naked burglar trapped in an air conditioning vent.
The product has never needed a Billy Mays; as the ShamWow guy might say, WD-40 sells itself. I'll certainly vouch for it, having once owned a '56 Ford pickup and later a '66 Mustang, neither of which could not be worked on without a squirt here and there to loosen rusty old nuts and screws.
The company also says it'll remove gum. I have an 8-year-old, and a pair of reading glasses sitting in the back seat of the car, on which to test that later today.
The Most Popular Myths in Science
Quiz: Great Inventions
Inventions
In The Water Cooler, Imaginova's Editorial Director Robert Roy Britt looks at what people are talking about in the world of science and beyond. Find more in the archives and on Twitter.
Stay up to date on the latest science news by signing up for our Essentials newsletter.
Robert is an independent health and science journalist and writer based in Phoenix, Arizona. He is a former editor-in-chief of Live Science with over 20 years of experience as a reporter and editor. He has worked on websites such as Space.com and Tom's Guide, and is a contributor on Medium, covering how we age and how to optimize the mind and body through time. He has a journalism degree from Humboldt State University in California.