Single Brain Cell Can Hold a Memory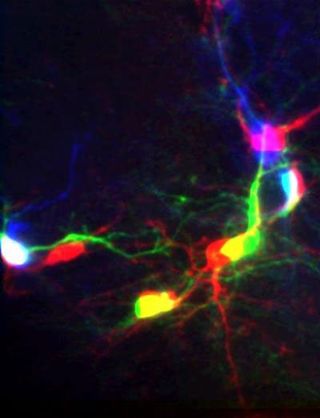 (Image credit: Hebrew University of Jerusalem photo)
Memory has long been described as a function of brain cells getting together and forming connections. A new study finds single cells can remember things.
Individual nerve cells (called neurons) in the front part of the brain can hold traces of memories by themselves for up to a minute, perhaps longer.
The fleeting memories, which the researchers found in mice brains, are held in the most highly evolved part of the brain in a manner akin to the nonpermanent working memory of a computer.
"It's more like RAM [random access memory] on a computer than memory stored on a disk," said Don Cooper, assistant professor of psychiatry at the University of Texas Southwestern Medical Center. "The memory on the disk is more permanent and you can go back and access the same information repeatedly. RAM memory is rewritable temporary storage that allows multitasking."
Mice brains are thought to function much like human brains, so the finding could help scientists better understand how our brains store rapidly changing information. Cooper likened the temporary one-cell memory storage to the sort of thing a card shark does when counting cards in a game of Black Jack. As casinos know, this is the memory that is most sensitive to the disruptive effects of alcohol and noisy distractions, Cooper points out. Hence, perhaps, the free drinks casinos offer up.
The discovery, detailed in the February issue of the journal Nature Neuroscience, could also lead to improved understanding of addictions, attention disorders and stress-related memory loss.
About the study
Researchers have known that permanent memories are stored when nerve cells in the brain reorganize and connections with one another are strengthened. "But this process takes minutes to hours to turn on and off and is too slow to buffer, or temporarily hold, rapidly incoming information," according to a statement today from the university.
As an example, studies find naps improve memory.
The new study found rapid-fire inputs less than a second long initiate a cellular memory process in single cells lasting as long as minute, a process called metabotropic glutamate transmission. The researchers identified in mice a specific metabotropic glutamate receptor called mGluR5 that, when turned on, starts a signaling cascade using calcium to hold a memory trace. This fast, short-term memory process happens inside individual cells; with long-term memory, additional proteins cause slow reorganization between cells in a network to establish a permanent memory.
Researchers examined brain cells from mice using nanoscale electrodes to measure the memory formation process.
To further understand how this short-term memory process relates to addiction, researchers applied the neurochemical dopamine to the memory buffer nerve cells. Dopamine is normally needed at an optimal level for an individual to focus attention and engage in fast decision-making memory, but drugs of abuse overload the brain with a surge of dopamine.
In the study, researchers found that an experimental drug that activates a specific type of dopamine receptor "focused" the nerve cells, making the memory trace less susceptible to distraction.
When researchers employed an animal model of drug addiction using cocaine, they also found that repeated exposure to addictive levels of cocaine reduced memory trace activation in the memory buffer cells. When researchers then activated dopamine signaling in the "addicted" animals, essentially adding more dopamine to their systems, no focusing effect was observed.
"This makes sense because we know from human and animal models of addiction, when a decision using working memory has to be made, brain imaging shows a deficit in the same area of the brain we looked at," Dr. Cooper said. "It all fits together."
Real-world application
Next, Cooper's team aims to develop drugs and genetic tools to manipulate and perhaps expand memory capacity and allow people prone to addiction to make smarter decisions.
"If we can identify and manipulate the molecular components of memory, we can develop drugs that boost the ability to maintain this memory trace to hopefully allow a person to complete tasks without being distracted," Cooper said. "For the person addicted to drugs, we could strengthen this part of the brain involved with decision-making, allowing them to ignore impulses and weigh negative consequences of their behavior before they abuse drugs."
The study was funded by several organizations: the National Institute on Drug Abuse; National Alliance for Research on Schizophrenia and Depression; the Alexander S. Onassis Public Benefit Foundation; and the Department of Veterans Affairs.
Brain News and Information
5 Things You Must Never Forget
Stay up to date on the latest science news by signing up for our Essentials newsletter.
For the science geek in everyone, Live Science offers a fascinating window into the natural and technological world, delivering comprehensive and compelling news and analysis on everything from dinosaur discoveries, archaeological finds and amazing animals to health, innovation and wearable technology. We aim to empower and inspire our readers with the tools needed to understand the world and appreciate its everyday awe.