Sci-Fi Device Turns iPod into Private Theater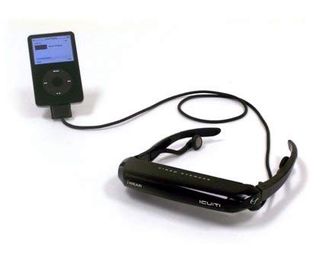 Icuity iWear for iPod represent a remarkable realization of the videoshades referred to by science fiction writers less than twenty years ago.
Yes, iPod has a great little screen. But why not relax with a 44-inch virtual screen—a movie experience that fits right in your pocket. Check the specs:
Twin high-resolution 320x240 (230,000 pixels) LCD Displays
Equivalent to a 44" screen viewed at 9 feet
24-bit True color (16 million colors)
Weighs 4 oz
iPod battery life remains the same as if using the iPod screen
60 Hz update rates
It offers +2 to -5 diopters, so you can use it without your glasses. The flexible headphones are removable and the viewer pivots up to 15 degrees for comfort. The nosepiece also adjusts, along with the custom fit headstrap. [Photo]
Incredibly, you get all this for just $300.
If you are into visions of the future, take a look at these related articles:
Find out more at the Icuity iWear website.
(This Science Fiction in the News story used with permission from Technovelgy.com - where science meets fiction.)
Urban Legends Debunked
Phone or iPod Run New Pocket-size Projector
Lightning Strikes Teen Listening To iPod
Stay up to date on the latest science news by signing up for our Essentials newsletter.
Bill Christensen catalogues the inventions, technology and ideas of science fiction writers at his website, Technovelgy. He is a contributor to Live Science.