Pong Game is Put on a Dress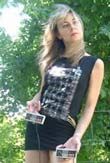 The Pong Dress is the creation of artists Max Moswitzer and Magarete Jahrmann of the Ludic Society.
The classic video game Pong is implemented on a 5x7 LED screen worked into the front of the dress. Two pixels on the right and left borders form the paddles; a single pixel is the "ball" moving back and forth.
At hip level, two retro-style game console controllers are plugged in to play the game. Every time a point is scored, the green score display at chest level blinks.
Science fiction writers have, of course, led the way in thinking of ways that clothing can be so much more than mere fashion. In Philip K. Dick's 1977 novel A Scanner Darkly (recently released as a feature film), characters use a scramble suit to disguise themselves.
In recent years, futuristic clothing has moved from fiction to reality:
Read more about the Pong Dress at Pong Mythos via WMMNA.
(This Science Fiction in the News story used with permission from Technovelgy.com - where science meets fiction.)
Stay up to date on the latest science news by signing up for our Essentials newsletter.
Bill Christensen catalogues the inventions, technology and ideas of science fiction writers at his website, Technovelgy. He is a contributor to Live Science.