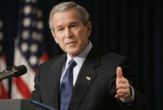 Several recent polls show Americans are increasingly fed up with their president, with Congress, and with the overall direction of the country.
American discontent with Congress is at the highest level in nearly a decade, and favorability ratings for both parties have sunk to levels not seen since 1992.
In a poll of 1,500 voters done earlier this month by the Pew Research Center for the People & the Press, 41 percent said this Congress has accomplished less than its recent predecessors. It is by far the most negative evaluation of Congress' record in polls since 1997, Pew analysts said.
In a separate poll conducted April 21-24 by NBC News and The Wall Street Journal, just 24 percent of respondents believe the United States is headed in the right direction. That's down seven points from a similar survey in January.
Good for Dems
In particular, independent voters are leaning Democrat as midterm elections loom this November. Half of independents in the Pew survey said they favor the Democratic candidate in their district, while just 31 percent plan to vote Republican.
"The American public is angry with Congress, and this is bad news for the Republican Party," the researchers conclude.
Among all survey respondents, 40 percent had a favorable view of the Republican Party, down from 44 percent in February and the lowest rating since 1992. However, the 47 percent favorability rating for the Democratic Party is also the lowest recorded by the Pew group.
Fresh start?
More than half of all voters want to clean the political house: 53 percent in the Pew survey said they would like to see most members of Congress defeated in November.
A USA Today/Gallup poll out today found that Republican enthusiasm for the elections is waning while Dems are more excited than ever. "Democrats' greater enthusiasm makes a shift in power in Congress from Republican to Democratic control even more possible," the Gallup analysts conclude.
Gallup pollsters say the shift, if it occurs, will be largely due to discontent with George Bush, not with Congress. Bush's approval rating among Republicans sank to 74 percent, a record low for his administration, according to the survey.
Finally, a CNN poll out yesterday confirms Bush's dismal ratings. He got the lowest favorability rating ever in a CNN poll—40 percent among all voters. Back in 2001, 87 percent of Americans gave him a favorable ranking.
One bright spot for Republicans: In the CNN poll, 57 percent had a favorable opinion of Secretary of State Condoleezza Rice.
Stay up to date on the latest science news by signing up for our Essentials newsletter.
Robert is an independent health and science journalist and writer based in Phoenix, Arizona. He is a former editor-in-chief of Live Science with over 20 years of experience as a reporter and editor. He has worked on websites such as Space.com and Tom's Guide, and is a contributor on Medium, covering how we age and how to optimize the mind and body through time. He has a journalism degree from Humboldt State University in California.