Europe Tests E-Newspapers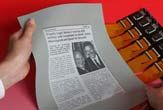 The term "E-Newspaper" sounds a bit cumbersome; why not just call them mediatrons? That has a nice futuristic sound to it. After all, if science fiction author Neal Stephenson wrote about them in 1995 in his novel The Diamond Age, shouldn't we give credit where it is due?
The first out of the gate, Belgium's De Tijd, another finance journal, uses the iLiad E-reader, developed by iRex Technologies, a spinoff of Royal Philips electronics. The daily economic paper Les Echos is now testing France's first papier ?lectronique?. The device used is not flexible; it's more like a lightweight (less than a pound) tablet display.
These two prototypes being tested sound more like Arthur C. Clarke's newspad, which appeared in the 1968 book version of 2001: A Space Odyssey:
Truly light and flexible displays like those shown below from Plastic Logic in Britain are now in the pipeline, but were not quite ready for the current trials.
(Flexible e-paper news article with graphics)
The flexible displays are black and white only, with 16 shades of gray. Advertisers are interested, despite the lack of color. These devices can have some programming along with the content; they can show coffee ads in the morning and beer ads in the evening, for example. Also, if the reader is standing in a WiFi hotspot, you could access more information from an ad, thereby combining the best of the web with the convenience of newspapers.
For other display-related news, see Node Explorer - Part Hitchhiker's Guide, Part Marauder's Map and Sony Reader Electronic Paper Book. Look here and here for online sources about 'E-Newspapers."
(This Science Fiction in the News story used with permission from Technovelgy.com - where science meets fiction.)
Stay up to date on the latest science news by signing up for our Essentials newsletter.
Bill Christensen catalogues the inventions, technology and ideas of science fiction writers at his website, Technovelgy. He is a contributor to Live Science.