Sleep Poorly? You're Not Alone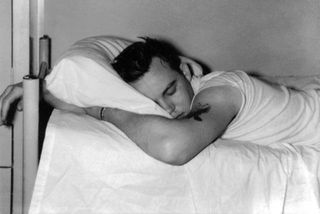 WASHINGTON (AP) -- Getting a good night's sleep is hard for many adults and that often means poorer health, lower productivity on the job, more danger on the roads and a less vibrant sex life.
"By 3 to 4 in the afternoon, I'm starting to feel brain-drained and I need that caffeine to pick me back up again,'' said Becky Mcerien, 50, of Philadelphia.
She gets about 6.5 hours of sleep a night -- slightly less than the adult average of 6.9 hours reported by the National Sleep Foundation.
Many experts say adults need a minimum of seven to nine hours of sleep a night.
A poll for the foundation, released Tuesday, indicates that three-quarters of adults say they frequently have a sleep problem, such as waking during the night or snoring.
Most people ignore the problem and few think they actually have one. Only half of those polled were able to say they slept well on most nights.
"I get what I need to function,'' said Guillermo Sardina, 55, of Hamilton, N.J., who averages six or seven hours a night. "I sleep through the night. I'm a sound sleeper. ... I don't even remember my dreams.''
One-fourth of adults say sleep problems have some impact on their daily lives.
Richard Gelula, the foundation's CEO, said there's a link between sleep and quality of life.
"People who sleep well, in general, are happier and healthier,'' he said. "But when sleep is poor or inadequate, people feel tired or fatigued, their social and intimate relationships suffer, work productivity is negatively affected, and they make our roads more dangerous by driving while sleepy and less alert.''
Symptoms of a sleep problem include difficulty falling asleep, waking a lot during the night, waking up too early and not being able to get back to sleep, waking up feeling unrefreshed, snoring, unpleasant feelings in the legs or pauses in breathing.
Darwin McCallian, 51, of Burke, Va., wakes up at 4 a.m. so he can get a head start on his work day and says he sometimes gets drowsy during his commute into Washington. "When I sleep in a little bit longer, it makes me a safer driver,'' said McCallian, who gets six to eight hours of sleep a night.
It's not just how much sleep a person gets, but the quality of sleep that matters, the report said.
Some of the nation's sleep habits can be attributed to an always-on-the-go society, said Chris Drake, senior scientist at the Henry Ford Hospital Sleep Center in Detroit and co-chairman of the 2005 poll task force.
"In an increasing 24-hour society, people are staying up much later,'' he said. "They can go to a 24-hour pharmacy or supermarket. They can do anything at any time of the night and day. That can impact on people's decisions to stay up later watching TV, doing work, being on the Internet.''
Mary Cuffee, 64, of Washington, says she stays up watching TV and has a stressful job. For her, seven hours of sleep aren't enough. She says she needs at least 10.
The study found:
Six in 10 adult motorists said they have driven while drowsy in the past year; 4 percent reported that they have had an accident or near-accident because they were too tired or actually fell asleep while driving.
Three-fourths said their partner has a sleep problem, and the most common is snoring.
Roughly one-fourth of respondents who have partners report that their sexual relationship has been hurt because they have been too sleepy. They had sex less often or lost interest in having sex because they were too tired.
Seven in 10 people said their doctor has never asked them about their sleep.
The foundation and many sleep experts recommend avoiding alcohol and caffeine close to bedtime. The group also recommends that adults pay attention to how much sleep they get and the quality of that sleep, and seek help if needed.
The National Sleep Foundation is a nonprofit organization that lobbies Congress and state governments on public health and safety issues surrounding sleep disorders and deprivation, including drowsy driving and school start times. It receives its funding from the sleep products industry, pharmaceutical companies, other corporate sponsors, physicians, clinics and sleep centers.
The poll, conducted by WB&A Market Research, used a random sample of 1,506 adults who were interviewed over the phone between Sept. 20 and Nov. 7, 2004. The margin of sampling error is plus or minus 2.5 percentage points.
Associated Press Writer Kata Kertesz contributed to this report.
Stay up to date on the latest science news by signing up for our Essentials newsletter.