A Soft Touch Can Soothe Hard Feelings of Rejection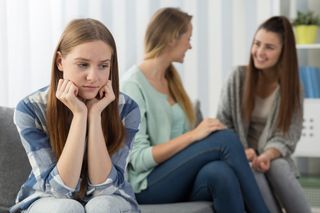 (Image credit: Photographee.eu/Shutterstuck)
Feelings of rejection can be common — you may feel ostracized at work, rejected by a partner or even snubbed by friends — but a new study from England shows how a gentle touch can curb these feelings of being excluded from social interactions.
In the study, researchers examined the negative effects of feeling socially excluded, and then how a slow, affectionate touch versus a fast, neutral touch can help reduce a person's emotional pain after being rejected by his or her peers.
"As our social world is becoming increasingly visual and digital, it is easy to forget the power of touch in human relations," lead study author Mariana von Mohr, a doctoral student in psychoanalytical studies at University College London, said in a statement. "Yet we've shown for the first time that mere slow, gentle stroking by a stranger can reduce feelings of social exclusion after social rejection." [5 Ways Your Emotions Influence Your World (and Vice Versa)]
For the study, the researchers examined how 84 women felt after being socially excluded. The participants played a game called Cyberball, a computer game in which three players passed a ball to each other. They were told that they were playing with two real people, but in fact a computer simulated the other two players.
After throwing the ball back and forth with their virtual partners, the women took a 10-minute break to answer questions about feelings that are often threatened by social exclusion, including their sense of belonging, self-esteem, meaningful existence and control.
The participants were then asked to play a second round of Cyberball. This time, however, the computer-generated players unexpectedly stopped passing the ball to the human players, causing them to feel ignored by their peers.
After the second round of the game, the participants were blindfolded, the researchers touched the participants' left forearms with a soft-bristled brush at either a slow or fast speed. Afterwards, the participants were asked to complete the same questionnaire.
On average, those who received a gentle touch after being rejected by their peers had reduced feelings of negativity and social exclusion, compared with those who received a fast, neutral touch, the researchers said. Their findings support the idea that a special physiological system links the skin to the brain, and demonstrate how a gentle touch can facilitate social support and bonding, they said.
However, the researchers noted that neither type of touch completely eliminated the negative effects of being ostracized, and the participants' general mood remained the same regardless of whether they received a gentle or neutral touch after being snubbed, according to the study.
The findings did not come entirely as a surprise to the researchers.
"Mammals have a well-recognized need for closeness and attachment, so it wasn't a big surprise that social support reduced the emotional pain of being excluded in social interactions," Katerina Fotopoulou, a reader in the psychoanalysis unit, also at University College London, said in the statement.
"What is interesting, however, is that social support was optimally conveyed only by a simple, yet specific, instance of touch. No words, or pictures were necessary, at least in the short term," Fotopoulou said. "This finding builds on evidence that the same kind of touch can have unique effects on physical pain and it can have implications for the role of touch in various mental and physical care settings."
The researchers said that more research is needed to determine the specific neurophysiological underpinnings of the findings, and in future studies plan to look at how other factors, such as temperature and skin-on-skin contact, might play a role.
The study was published today (Oct. 18) in the journal Scientific Reports.
Originally published on Live Science.
Stay up to date on the latest science news by signing up for our Essentials newsletter.