Photos: The Poisonous Creatures of the North American Deserts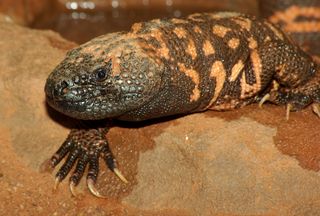 (Image credit: Timothy Craig Lubcke/Shutterstock )
Earth's deserts
Geographers tell us that slightly over 20 percent of the Earth's land surface is classified as a desert. Such a classification is given when the land region receives an annual precipitation of no more than 10 inches (25 cm). Somewhat over one-tenth of these desert lands are located in North America in a vast region largely located west of the Rocky and Sierra Madre Oriental Mountains and east of the Sierra Nevada and the Peninsular Mountain Ranges.
Hot and cold places
The Great North American Desert is further subdivided into three distinct hot deserts, the Chihuahuan, Sonoran, Mojave and one cold desert, the Great Basin. Numerous smaller cold deserts are found within the Columbia Basin, Snake River Plain and within the Colorado Plateau. All are located in the western United States and extend into northern Mexico. while sharing a common characteristic — they are all home to a wide variety of poisonous reptiles, amphibians and arachnids.
Famed reptiles
The Western diamondback, Crotalus atrox, is the most famous of the desert rattlesnakes. It has often been used in movies and advertisements as a symbol of the wild American West. This is the largest of the rattlesnakes found in North America with some individual species growing to a length of 8.6 feet ( 2.6 m). The distinct diamondback dorsal pattern gives rise to the snake's name, and this species is responsible for biting more people than any other North American rattlesnake species. Often called a "coon-tailed rattler" because of the black and white coloration just in front of its set of rattles, the Western Diamondback can be found successfully living in a variety of ecological niches of the North American deserts below an elevation of 6,500 feet (2,000 m).
Tricky hunters
The sidewinder, Crotalus cerastes, is another of the venomous species of rattlesnakes found in the North American Deserts. Like all rattlesnakes, the sidewinder is a pit viper, using two heat-sensing organs near its eyes to search for, and then aim its deadly strike at, warm-blooded prey. Sidewinders are found in the desert regions from southwestern Utah, southern Nevada, eastern California and western Arizona. It is also a common desert predator in western Sonora, Mexico, and the eastern portion of Baja California. The name comes from the unusual form of locomotion the snake employees to move across the sandy landscape. They are one of the smaller species of rattlesnakes. with adults measuring only 17 - 30 inches (43 - 76 cm ) in length.
A big family
There are 65 species of coral snakes found across the world, with the Western coral snake, Micruroides euryxanthus, shown here, being the most common in the North American deserts. This is a relatively small snake, growing to only 13 to 22 inches, with a small head and a thickness of a common pencil. Their distinctive red, yellow and black coloration makes for a colorful appearance in a desert landscape dominated by shades of brown and black. The Western coral snake is shy, spending its days hiding under rocks or underground in an abandoned ground squirrel hole. They primarily hunt lizards and other small snakes. Coral snakes are the most venomous of all North American snakes and their bite can be fatal. The non-venomous Sonoran Mountain king snake, Lampropeltis pyromelana, has a similar colored pattern to the coral snake but the king snake's red and black bands are joined together — "Red on yellow, dangerous fellow; red on black, friend of Jack."
Unique lizards
The North American deserts are also home to two of the more distinct of lizard species — the Mexican beaded lizard, Heloderma horridum, and the Gila monster, Heloderma suspectum, shown here. These modern day poisonous lizards are a part of a modern day family of lizards known as Helodermatidae, all of which are decedents of an ancient group of reptiles known as Monstersauria which coexisted with the largest of dinosaurs some 35 million years ago during the Cretaceous period.
Named for home
The Gila monster gets its name from the lizard's habitat that includes the Gila River Basin in southeastern Arizona. Here, the lumbering "monster" was first seen slowly moving across the desert floor in search of the nests of birds, rabbits, rodents, tortoises and other lizards. The Gila monster is the largest lizard found in the United States, some growing to a length of 24 inches (60 cm) and weighing up to 1.5 pounds (700 g). They spend the vast amount of their time, upwards of 90 percent, in their underground burrows, and are most active in the early spring and summer mornings. The beaded look of their dorsal scales is caused by the many small bones found under those scales. A pair of glands in the lower jaw produces their venom, which is "chewed" into their prey through a series of grooved teeth.
Big 'ole critters
Poisonous arachnids are also common throughout the North American deserts. The giant hairy scorpion, Hadrurus arizonensis, shown here, is a common and the largest scorpion species found in the North American deserts, growing in length between 4 and 7 inches ( 10 and 18 cm). Some species in captivity have lived upwards of 20 years. They tend to be nocturnal hunters, quickly moving to grasp an unwary centipede or cricket with their powerful claws and then quickly injecting the victim with immobilizing venom. Fossil records show that scorpion ancestors walked with the dinosaurs during the Devonian period some 400 million years ago, making these modern-day arachnids some of the most ancient of desert dwellers.
UV glow
The giant hairy scorpion is one of over 60 species of scorpions found across the North American deserts. They are often found within the homes of humans with whom they share the desert environment. Luckily, most of the scorpion species pose little danger to humans; but a few species can be dangerous if an individual is allergic to their venom. Scientists still do not know exactly why scorpions glow when exposed to ultraviolet light, but anyone who has seen the beautiful blue-green glow, shown above, of a scorpion hunting on the desert floor will long remember their encounter with this ancient animal species.
Dangerous arachnids
The female black widow spider, Latrodectus hesperus, is a common resident in the North American deserts. Its venom is reported to be some 15 times more potent than that of a rattlesnake, thus making this common arachnid the most venomous spider of North America. Females are about 1.5 inches (3.81 cm) when their legs are spread out and are larger than the males. Mature females exhibit the classic reddish hourglass shape on the underside of their shiny black abdomens. Females spin a messy, irregular-shaped web. They are a shy, solitary animal and only socialize with a male at the time of mating. Often, after mating, "the widow" will consume her male lover.
Fiddle-back spider
The Arizona brown spider, Loxoceles arizonicus, is another poisonous arachnid found living in the North American deserts. The Arizona brown spider is a recluse spider and is a close relative of the brown recluse spider of the midwestern United States. There are 11 recluse spiders found across North America; the Sonoran Desert is home to five of them. Recluse spiders are most easily identified by the dark violin-shaped mark found on their light-brown cephalothorax. This design results in a secondary common name as the fiddle-back spider. The Arizona brown spiders is a "trapping spider," catching insects and other small invertebrates in a disorganized, sticky web spun beneath rocks and desert debris.
Stay up to date on the latest science news by signing up for our Essentials newsletter.