No Sweat: Small Doses of Exercise May Ward Off Depression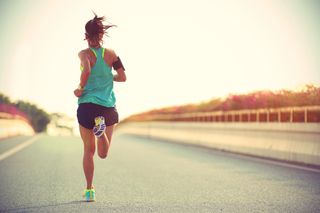 (Image credit: Shutterstock)
Anyone who has experienced the euphoric "runner's high" that follows a satisfying workout will likely attest to a connection between physical activity and mental health. Studies have long borne this theory out: Endorphins, the opiate-like chemicals that flood the brain after intense or sustained exercise, appear to act as a buffer against depressive thoughts and feelings.
But you don't have to train to the point of collapse to reap the benefits of this "mind-body" relationship: A new study from Australia finds that even small doses of exercise — as little as 1 hour per week — can elevate one's mood, regardless of age or gender. [How to Start an Exercise Routine and Stick to It]
"We've known for some time that exercise has a role to play in treating symptoms of depression, but this is the first time we have been able to quantify the preventative potential of physical activity in terms of reducing future levels of depression," lead study author Dr. Samuel Harvey, an associate professor of medicine at the Black Dog Institute at the University of New South Wales, said in a statement.
In the study, which was published Oct. 3 in the American Journal of Psychiatry, the researchers looked at data from the Health Study of Nord-Trøndelag County (aka the HUNT study), one of most extensive population-based health surveys ever conducted. Specifically, they tracked the levels of exercise and symptoms of depression in nearly 34,000 Norwegian adults between January 1984 and June 1997.
At the beginning of the HUNT study, participants were asked about their frequency and intensity of exercise, then, at a follow-up session, about any symptoms of anxiety and depression.
The scientists found that people who said they never exercised had a 44 percent increased risk of developing depression compared with those who sweated it out 1 to 2 hours a week. There was no link between exercise levels and symptoms of anxiety, however.
In fact, just 1 hour of physical activity each week could have prevented 12 percent of depression diagnoses over the course of the study period, the researchers said.
"These results highlight the great potential to integrate exercise into individual mental health plans and broader public health campaigns," Harvey said. "If we can find ways to increase the population's level of physical activity even by a small amount, then this is likely to bring substantial physical and mental health benefits."
The findings are significant, but perhaps even more so because most of the psychological benefits of exercise manifest almost immediately, Harvey said.
"With sedentary lifestyles becoming the norm worldwide, and rates of depression growing, these results are particularly pertinent as they highlight that even small lifestyle changes can reap significant mental health benefits," he added.
Scientists are unsure why exercise has this protective effect. "But we believe it is from the combined impact of the various physical and social benefits of physical activity," Harvey said.
Originally published on Live Science.
Stay up to date on the latest science news by signing up for our Essentials newsletter.