Man Left Wheelchair-Bound from Using Denture Cream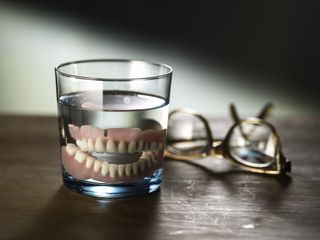 (Image credit: Arrfoto/Shutterstock)
A 62-year-old man in the United Kingdom lost feeling in both his legs in an unusual case that linked his neurological problems to heavy use of a zinc-containing denture fixative.
The man was referred to a neurology clinic after experiencing tingling in his hands and numbness, pain and weakness in his legs that required him to walk with a cane. After six months, those symptoms had left him housebound. At the clinic, an MRI scan revealed abnormalities in the man's spinal cord, and multiple follow-up tests led to his diagnosis: copper deficiency myelopathy, which is a brain syndrome caused by inadequate levels of copper.
The man told doctors that he had used two to four tubes of the cream every week for the past 15 years to help keep his ill-fitting dentures in place, according to a study published in the online journal BMJ Case Reports by doctors at the Institute of Neurological Sciences, Queen Elizabeth University Hospital in Glasgow, United Kingdom. [The 27 Oddest Medical Cases]
It is rare to become deficient in copper, since the body needs very little of it. However, trace amounts of copper play a part in maintaining nerve cells and the immune system, as well as helping the body make red blood cells, according to the University of Maryland Medical Center.
This case is among a handful of reported incidents in which exposure to excessive amounts of zinc through denture creams caused copper deficiencies, leading to neurological problems. Zinc plays a part in fighting off viruses and bacteria, and helps make genetic material, but excessive amounts of zinc have been shown to interfere with the body's ability to absorb copper.
Zinc is present in some denture adhesive creams, and if the creams are used as directed, zinc toxicity is not a concern, according to the U.S. Food and Drug Administration (FDA). However, a collection of cases of extreme zinc exposure prompted the FDA to issue a notice to denture adhesive manufacturers in 2011. The notice requests that manufacturers perform risk analyses of their creams, enhance warning labels on products and consider replacing the zinc in their products with alternative ingredients.
The U.K. man's doctors instructed him to immediately stop using his denture cream, which was exposing him to zinc levels far above the daily 11-milligram daily dose recommended for adult men by the U.S. National Institutes of Health. He was also given copper supplements to treat his symptoms. While the progression of the man's disease halted with this treatment, his doctors said they fear he may have irreversible nerve damage due to his delayed diagnosis.
The patient reported a gradual reduction in tingling and numbness, but heremains mostly wheelchair-bound.
Alcoholism and gastric bypass surgery have also been associated with copper absorption problems. Otherwise, the NIH says most people can probably get all the copper they need through a wide range of foods, including oysters, liver, whole-grain breads and cereals, shellfish, dark-green leafy vegetables, dried legumes, nuts and, a particularly appealing source: chocolate.
Originally published on Live Science.
Stay up to date on the latest science news by signing up for our Essentials newsletter.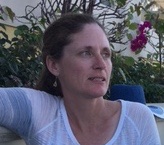 Amanda Onion writes about health science advances and other topics at Live Science. Onion has covered science news for ABCNews.com, Time.com and Discovery News, among other publications. A graduate of Dartmouth College and the Columbia School of Journalism, she's a mother, a runner, a skier and proud tree-hugger based in Brooklyn, New York.