Swipe Left for Sadness: Tinder Users Report More Distress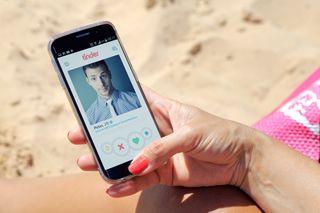 (Image credit: Alejandro Ruhl/Shutterstock)
WASHINGTON — Swiping through Tinder may be taking a toll on your mental health and self-esteem: A new study finds that Tinder users had lower levels of self-esteem and more body dissatisfaction than people who didn't use the dating app.
The reason may have to do with the fact that a person's looks play a major role in Tinder. People accept or reject potential matches based primarily on photos, and sometimes, a short description. And this type of judgment can take a toll, the study found.
Both male and female Tinder users in the study experienced low self-esteem, body shame and negative moods, said lead study author Jessica Strubel, an assistant professor of textiles, merchandising and design at the University of Rhode Island, whose research includes looking at the effects of body image on decision-making. [13 Scientifically Proven Signs You're in Love]
Strubel has studied the links between Tinder and self-esteem before. In a study published online earlier this year, she found that male Tinder users had lower self-esteem than men who weren't on the app.
In the new study, which was presented here today (Aug. 3) at the American Psychological Association's annual meeting, Strubel and her team again looked at college-age Tinder users — more than 700 female and 120 male students.
Ultimately, they found the same thing as the previous study, with one difference, Strubel told Live Science: Both men and women had similar negative responses, she said. The new study also looked at more factors, including whether Tinder use was associated with a person's mood and eating habits.
In addition to providing information about their Tinder use, the people in the study also answered questions about their mood, level of body satisfaction, self-esteem, perceived societal pressures to look a certain way and body shame.
About 17 percent of the people in the study used Tinder. Compared with those who didn't use the app, Tinder users were more likely to report negative feelings. For example, relative to nonusers, Tinder users were more likely to compare themselves to others, feel pressures to look a certain way and experience negative moods.
The researchers also looked at whether Tinder users were more likely to change their eating habits, or "dietary intent." Here, however, they found no difference between users and nonusers. Dietary intent is related to a person's body satisfaction, Strubel said. If a person isn't happy with their body, what will the subsequent behaviors be? she said. But in this case, the findings showed that just because a person is dissatisfied doesn't necessarily mean that they're going to change their eating habits.
Still, Strubel stressed that she's not telling people to stop using Tinder. "I understand … this is the dating world now," she said. "But we can't deny what the science says: There are some psychological ramifications to this."
To limit the possible negative effects of using Tinder, Strubel recommended keeping things in perspective when using the app. For example, keep in mind that the photos you see of others don't always represent reality; instead, they show a person at their very best.
And don't use the app as a means of self-validation, Strubel said. There are other things that you should use to judge your value than whether you're getting enough likes on Tinder, she said
The findings have not yet been published in a peer-reviewed journal.
Originally published on Live Science.
Stay up to date on the latest science news by signing up for our Essentials newsletter.
Sara is a staff writer for Live Science, covering health. She grew up outside of Philadelphia and studied biology at Hamilton College in upstate New York. When she's not writing, she can be found at the library, checking out a big stack of books.