What Are the Signs of Diabetes?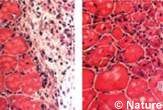 This Week's Question: I've been very thirsty lately and someone mentioned to me that this is a symptom for diabetes. Is that true?
An intense thirst is one diabetes symptom. Here are others: frequent urination, strong hunger, fatigue, unintended weight loss, slow-healing sores, dry and itchy skin, numbness or tingling in your feet, and blurred vision. However, some people with diabetes do not have symptoms.
Diabetes mellitus is a group of diseases characterized by high levels of blood sugar. Diabetes can create serious health problems, but diabetics can control the disease.
If you have diabetes, your body can't produce insulin or use it properly. Insulin is a hormone that helps control the sugar in your blood. Insulin is made by the pancreas, a large organ behind the stomach.
Your body converts most of the food you eat into a form of sugar called glucose, which is our main source of energy. If your body does not make enough insulin or the insulin doesn't work the way it should, glucose can't get into your cells and remains in your blood.
High levels of glucose in the blood damage nerves and blood vessels. This can lead to complications such as heart disease, stroke, kidney disease, blindness, and lower-limb amputation.
About 18.2 million Americans have diabetes. More than 8 million people 60 years or older suffer from the disease.
A small percentage of diabetics have type 1 diabetes, which usually occurs in people under age 30. Diabetics with this form of the disease cannot produce insulin.
About 90 percent of Americans with diabetes have type 2 diabetes. It is most common in adults over age 40, and the risk of getting it increases with age. With this form of diabetes, the body does not always produce enough insulin or does not use insulin efficiently. Being overweight and inactive increases the chances of developing type 2 diabetes.
Type 2 diabetes can be prevented in people who are at an increased risk or have pre-diabetes, a condition in which glucose levels are higher than normal but not yet high enough for a diagnosis of diabetes. People with pre-diabetes are more likely to develop diabetes within 10 years and are also more likely to have a heart attack or stroke.
A recent study showed that people with pre-diabetes can sharply lower their chances of developing the disease through modest weight loss with diet and exercise.
That same study showed that changes in diet and exercise were especially effective in curbing the development of diabetes in older people. In fact, the development of diabetes dropped by 71 percent in adults 60 and older who were enrolled in the study.
Because type 2 diabetes is more common in older people, especially in people who are overweight, doctors recommend that anyone 45 years of age or older be tested for diabetes.
Video: Spice Might Help Curb Diabetes and Obesity
Diet News & Information
Stay up to date on the latest science news by signing up for our Essentials newsletter.
Fred Cicetti is a contributing writer for Live Science who specializes in health. He has been writing professionally since 1963. Before he began freelancing, he was a reporter, rewriteman and columnist for three daily newspapers in New Jersey: The Newark News, Newark Star-Ledger and Morristown Record. He has written two published novels:" Saltwater Taffy—A Summer at the Jersey Shore," and "Local Angles—Big News in Small Towns."