Obama Bans Arctic Drilling Ahead of Trump Inauguration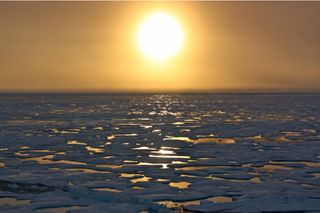 (Image credit: NASA)
The Obama administration on Tuesday put vast swaths of the Arctic and Atlantic oceans off limits to oil and gas drilling to protect marine life, address climate change and safeguard the areas from development after President-elect Donald Trump takes office in January.
At the same time, Canadian Prime Minister Justin Trudeau announced that Canada will designate all Arctic Ocean waters under Canadian control as indefinitely off limits to future offshore oil and gas development.
The U.S. announcement bars oil and gas drilling from occurring on 3.8 million acres of U.S.-controlled waters off the East Coast and 115 million acres in the Arctic Ocean, including most of the Beaufort and Chukchi seas.
The Obama administration is leaving 2.8 million acres of the Beaufort Sea open to drilling.
Obama is using a 1953 law called the Outer Continental Shelf Lands Act to protect both Atlantic and Arctic ocean waters from drilling, making it difficult for the incoming Trump administration to reverse the new protections, according to Bloomberg News.
President-elect Donald Trump has said one of his first actions as president will be to reverse as many Obama administration restrictions on oil and gas leasing and development as possible. Many of Trump's cabinet members — including secretary of state nominee Rex Tillerson, the chief executive of ExxonMobil — have ties to fossil fuels industries, and most have a record of supporting nearly unfettered oil, gas and coal development.
In a joint statement, the White House and the Canadian government said the withdrawal of those waters from future fossil fuels leasing makes good on a commitment that Trudeau and President Obama made in March to allowing only environmentally responsible commercial activity in the Arctic.
"The withdrawal will help build the resilience of these vital ecosystems, provide refuges for at-risk species, sustain commercial fisheries and subsistence traditions, and create natural laboratories for scientists to monitor and explore the impacts of climate change," U.S. Interior Secretary Sally Jewell said in a statement.
Jewell said that the region of the Atlantic protected from development includes 31 underwater canyons off the shores of New England and the Mid-Atlantic states. One canyon is greater than 10,000 feet deep and is roughly the size of the Grand Canyon.
The American Petroleum Institute on Tuesday criticized the Obama administration for barring drilling in those areas, saying it jeopardizes national security and violates the intent of Congress.
"Blocking offshore exploration weakens our national security, destroys good-paying jobs, and could make energy less affordable for consumers," API Upstream Director Erik Milito said in a statement. "Fortunately, there is no such thing as a permanent ban, and we look forward to working with the new administration on fulfilling the will of American voters on energy production."
Environmental groups hailed the decision.
"President Obama used a law employed by multiple presidents to establish these essential protections," Natural Resources Defense Council president Rhea Suh said in a statement.
"There has never been a more important time or more fragile ecosystems for this type of presidential action," she said. "Today's bold bilateral announcement between Canada and the United States shows North America is leading the world in preserving the Arctic for future generations."
You May Also Like: Public Climate Information Threatened Under Trump Warming U.S. Could See Extreme Rains Increase Fivefold Climate Change Will Stir 'Unimaginable' Refugee Crisis Businesses Push Against Trump's Climate Dismissal
Original article on Climate Central.
Stay up to date on the latest science news by signing up for our Essentials newsletter.