How to Know if You Have Alzheimer's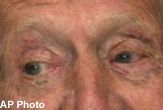 This Week's Question: I've been forgetting names of people lately and I have this dread that this is an early symptom of Alzheimer's. How can I tell?
I don't know a geezer who hasn't asked this question. Once you hit 60, you begin to wonder if your lost keys have greater significance than they did when you were younger.
The scary truth is that Alzheimer's begins with difficulty remembering the familiar — people, things, events. Or, you start having trouble doing simple arithmetic in your head. These annoyances are common to seniors with healthy brains, so most of us don't get too worked up over them.
But, as Alzheimer's progresses, it can make people forget how to brush their teeth or change channels on a TV. And it gets worse until patients require complete care.
So, when should you go to your doctor to discuss your memory lapses?
That's a personal judgment call. I've found that I can't remember the names of movie stars and ballplayers the way I used to. I attribute this to what I call the "overloaded filing cabinet." As we get older, we accumulate so many memories that it's impossible to find the one we want.
I'm not sufficiently worried about my memory difficulties to mention them to my doctor. But if you are worried, get tested.
The available tests include a thorough physical, neurological, and psychiatric evaluation. A medical history will probably be taken. This history includes information about use of medicines, diet and past medical conditions. Blood and urine tests may be done. There are also mental tests of memory, problem-solving and language. A brain CT scan could be ordered.
If you're having some memory lapses, go to the doctor with a positive attitude. The fact is that many different medical conditions may cause Alzheimer's-like symptoms. Some of these medical conditions may be treatable. You could be suffering from the effects of a high fever, dehydration, poor nutrition, reactions to medicines, thyroid problems or a minor head injury.
And then there are those pesky emotions. Feeling sad, lonely, worried, or bored can affect people facing retirement or coping with the death of a loved one. Adapting to change can make you forgetful.
There are benefits to an early diagnosis of Alzheimer's. Knowing early helps patients and their families plan for the future. It gives them time to discuss care while the patient can still participate in decisions. Early diagnosis also offers the best chance to treat the symptoms of the disease.
Today, some people in the early and middle stages of Alzheimer's disease are given drugs to delay the development of some of the disease's symptoms. And there is a drug for treatment of moderate to severe Alzheimer's.
Scientists are working to develop new drugs to treat Alzheimer's. Although research is helping us learn more about the disease, we still do not know what causes Alzheimer's, and there is no cure.
Alzheimer's Disease: News & Information
Video: Alzheimer's Switch
The Healthy Geezer column publishes each Wednesday on LiveScience. If you would like to ask a question, please write fred@healthygeezer.com. © 2009 by Fred Cicetti.
Stay up to date on the latest science news by signing up for our Essentials newsletter.
Fred Cicetti is a contributing writer for Live Science who specializes in health. He has been writing professionally since 1963. Before he began freelancing, he was a reporter, rewriteman and columnist for three daily newspapers in New Jersey: The Newark News, Newark Star-Ledger and Morristown Record. He has written two published novels:" Saltwater Taffy—A Summer at the Jersey Shore," and "Local Angles—Big News in Small Towns."