Search for Another King Under a Parking Lot Begins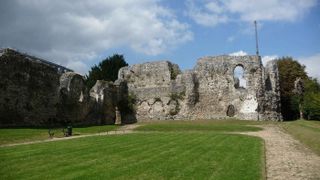 (Image credit: Neil Thompson, <a href="https://www.flickr.com/photos/williamsdb/">Flickr</a>)
Nearly four years after the body of King Richard III was discovered under a parking lot, a new search is on for an English monarch under pavement.
On Friday (June 10), archaeologists began a survey of the grounds of the long-closed Reading Abbey, the final resting place of King Henry I, who ruled England from 1100 to 1135. In order to image the subsurface, they relied on ground-penetrating radar (GPR), which uses reflected radar waves to reveal buried structures.
The abbey was shut in 1539, though some of its buildings still stand in ruins. The rest of the grounds lie under a defunct prison, parking spots, a nursery school and a playground. [Photos: In Search of the Grave of King Richard III]
"The abbey has never been fully surveyed and we are not even sure about its exact size or footprint, especially that of the church," historian John Mullaney, one of the leaders of the Hidden Abbey Project, told Live Science. "The GPR survey is therefore the first comprehensive look at this part of the abbey."
Though it isn't the main aim of the project, there is a chance that the survey could turn up the bones of Henry I. The king founded the abbey and was buried under its high alter, somewhere under the present-day school grounds and playground, according to historical records.
Lost king
Henry I was born in 1068 to William the Conqueror. As a third son, he did not inherit any land upon his father's death in 1087, but he proved a savvy political manipulator. He purchased land from one brother, Robert, built up local support, and then allied himself with his other brother, William II (also known as William the Red), against Robert. When William died in a hunting accident, Henry seized power. A year later, Robert attempted to invade and seize the throne himself, but failed and had to renounce his claim to the crown. A later brotherly dispute in 1106 would end with Robert captured and imprisoned until his death in 1134. [Royal Babies: Second Siblings Who Changed the World]
Meanwhile, Henry I strengthened the government in England and Normandy with a centralized tax collection and a reformed administration. His son and heir, William Adelin, died in 1120 in the sinking of the White Ship, which went down in the English Channel after hitting a rock. When Henry I died in 1135 — contemporary sources say he fell sick after eating too many lampreys (an eel-like fish) — the lack of a clear heir led to a period of civil war called The Anarchy that lasted nearly 20 years.
There is no mystery about where Henry I was buried, Mullaney said. In fact, even without the ground-penetrating radar survey, archaeologists and historians know, within a few meters, where the grave would have been.
"The question is whether his remains are still there after all the building work in the area, let alone earlier attempts to dig up various sarcophagi in the late 18th and early 19th centuries," Mullaney said.
Hidden abbey
That's one reason why Henry's remains aren't the main focus of the current search. Instead, Mullaney and his colleagues hope to map out what, if anything, might be left of the abbey's high altar and the west side of its grounds They'd also like to find out if there are structures at the site that predate the abbey, something that would indicate use of the land before Henry I's building project.
There are rumors suggesting that Henry I's tomb has already been found and lost. Excavations in the 18th and 19th centuries turned up several sarcophagi, including one ornate enough to be a king's. All three have been lost. Other rumors hold that Henry's tomb was looted in the 1500s and his bones scattered.
So far, Mullaney and his team are waiting to see if the GPR turns up anything worth digging for, whether human remains or architectural artifacts. Historic England, the body responsible for the country's historic sites, would have to approve a dig, Mullaney said.
"If, as part of any excavations, we discovered bones then it would be very difficult to prove that they were Henry's," Mullaney said. "However, as a mark of respect due to any person, be they a king or a serf, I would suggest reinterring any human remains with dignity in the area they are found. The site was considered as holy ground by the people of the time and is still next to a place of worship."
Original article on Live Science.
Stay up to date on the latest science news by signing up for our Essentials newsletter.
Stephanie Pappas is a contributing writer for Live Science, covering topics ranging from geoscience to archaeology to the human brain and behavior. She was previously a senior writer for Live Science but is now a freelancer based in Denver, Colorado, and regularly contributes to Scientific American and The Monitor, the monthly magazine of the American Psychological Association. Stephanie received a bachelor's degree in psychology from the University of South Carolina and a graduate certificate in science communication from the University of California, Santa Cruz.