Amelia Earhart's Plane Discovered in Odd Movie Cameo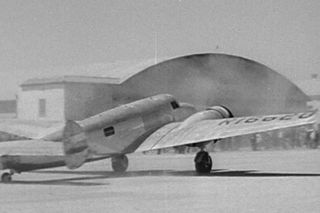 (Image credit: TIGHAR)
Some eight months before its last, fateful flight over the Pacific, Amelia Earhart's aircraft appeared on theater screens chasing a panicked crowd all around an airport apron and then making a wild takeoff, new research into the world's most famous missing plane has revealed.
Researchers at The International Group for Historic Aircraft Recovery (TIGHAR), which has long been investigating the last, fateful flight taken by Earhart on July 2, 1937, have discovered the twin-engined Lockheed Electra had a cameo role in the MGM romantic comedy "Love On The Run," starring Clark Gable and Joan Crawford.
"With Hollywood stunt pilot Paul Mantz at the controls, the plane cavorted for the camera," Ric Gillespie executive director of TIGHAR, told Discovery News.
Photos: Amelia Earhart's Fate Reconstructed
According to TIGHAR, the Electra was filmed within weeks of its delivery to Amelia on her 39th birthday on July 24, 1936. Whether she knew or approved of her new airplane's debut is not clear.
After the crazy takeoff performed by Mantz, who was also Earhart's technical adviser, the newly-licensed airplane wasn't used again in the film. All of the later shots were done using a scale model.
In the story, the plane ultimately crashed, though Clark Gable and Joan Crawford escaped without injury.
"It is little wonder that this bizarre use of Earhart's aircraft was kept quiet," Gillespie said.
Photos: Jars Hint at Amelia Earhart as Castaway
He noted that scenes in the movie clearly show the registration number R1602 of Earhart's plane on the upper wing surface.
The strange episode has been unknown to Earhart biographers and researchers until now. The fate of Earhart and resting place of the Electra remain unknown as well.
In the attempt to finally solve the mystery, a new expedition will be launched in summer 2017, on the 80th anniversary of the disappearance of the legendary pilot.
Amelia Earhart Plane Fragment Identified
Gillespie told Discovery News that the comprehensive search will rely on two three-person manned submersibles operated by the University of Hawaii's Undersea Research Laboratory (HURL).
HURL's subs, Pisces IV and Pisces V, will inspect a one-mile-long section of the steep, underwater reef slope off the west end of Nikumaroro, an uninhabited island in the southwestern Pacific republic of Kiribati, looking for fragments of Earhart's plane.
"An abundance of archival, photographic and artifact evidence suggests that Earhart and her navigator Fred Noonan made a successful landing on the island's fringing reef," Gillespie said.
He explained that the couple appear to have sent radio distress calls for nearly a week before the aircraft was washed into the ocean by rising tides and surf.
"Earhart and Noonan died as castaways on the waterless, uninhabited atoll. The aircraft lies somewhere below," he said.
Called Niku IX, this will be TIGHAR's 12th expedition to Nikumaroro.
Credible Amelia Earhart Signals Were Ignored
Efforts to search the reef in 2010, 2012, and 2015 using Remote Operated Vehicles (ROVs) were frustrated by equipment malfunctions and limitations of the technology.
A side-scan sonar survey in 2012 using the same Autonomous Underwater Vehicle (AUV) later used to search for the missing Maylasian Flight MH370 also proved unreliable and misleading.
"Detailed re-analysis of the sonar data has shown that an anomaly in the imagery that seemed to resemble an aircraft is almost certainly a coral ridge," Gillespie said.
This time the craggy underwater mountainside will be searched by direct human observation.
"No more ROVs. We'll do it right or we won't do it," Gillespie said.
Theory on Amelia Earhart's Emergency Camp Site Shifts
Equipped with high-definition video, still cameras, mechanical arms, powerful lights and recovery baskets, each of the subs will carry a pilot and two observers. They will inspect the underwater area down to a depth of up to 6,500 feet.
Gillespie estimates the search area will be covered in seven days of operation.
Next year, if all goes as planned, submarines will be used in a comprehensive survey of all of the atolls and seamounts in the Phoenix Islands Protected Area, the world's largest marine sanctuary.
Amelia Earhart Letter Encourages Aspiring Aviator
TIGHAR plans to charter the mother ship, the University of Hawaii oceanographic research vessel Ka'Imikai-O-Kanaloa (KOK), and the HURL subs during that time.
"Staging out of Samoa, three days from Nikumaroro, rather than Oahu, nine days each way, would mean a tremendous saving in positioning costs," Gillespie said.
In that scenario, Gillespie estimates the expedition will cost a little under $1 million.
Originally published on Discovery News.
Stay up to date on the latest science news by signing up for our Essentials newsletter.