Smartphone Trick Could Change Your Sedentary Lifestyle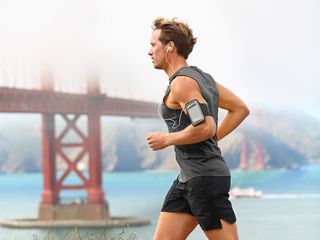 (Image credit: Maridav/Shutterstock.com)
Using reminders on your smartphone to prompt you to get moving during the day could help you reduce the amount of time you spend sitting, a new study suggests.
The researchers found that people in the study who used such smartphone reminders spent 3 percent less time sitting per day, on average, compared with people who did not receive the frequent reminders. This translated into about 25 minutes more time spent moving instead of sitting per day.
"We really didn't do an elaborate intervention here," said study author Darla E. Kendzor, a clinical psychologist at the University of Oklahoma Health Sciences Center. And, since many people already have smartphones, applying this type of intervention in everyday life would be feasible, she said.
Previous research has linked sedentary lifestyles to a number of health problems, including an increased risk of breast, colorectal, ovarian, endometrial, and prostate cancers, as well as weight gain, higher BMI and obesity, the researchers said. Adults in the United States spend about 8 hours per day sitting, on average. [5 Tips for Sitting Less During Your Work Day]
In the new study, the researchers set out to see whether an intervention involving smartphones could help reduce the amount of time people spent sitting each day. However, the researchers did not look at whether the smartphone intervention had any effect on the people's health outcomes.
The researchers asked 107 people to wear accelerometers (for measuring their activity) and carry smartphones for a week. At the beginning of the study, the people received a handout that described the importance of limiting their sedentary time and tips on how to reduce the amount of time spent sitting and spend more time moving.
During the week of the study, the people also received messages on their smartphones, reminding them about the negative health effects linked to having a sedentary lifestyle. The prompts encouraged the people to stand up right away, and move around for 5 minutes. The messages included in the prompts also encouraged the people to make an effort to stand up and move every half hour during time spent sitting.
The study also included a control group of 131 people, who did not receive handouts or smartphone prompts.
One of the limitations of the study was that it was short, and more research is needed to confirm the findings, the researchers said. Still, simple smartphone prompts seem to be a promising strategy for reducing the amount of time people spend sitting, they said.
The new study was published Monday (Jan. 25) in the Journal of Medical Internet Research.
Follow Agata Blaszczak-Boxe on Twitter. Follow Live Science @livescience, Facebook & Google+. Originally published on Live Science.
Stay up to date on the latest science news by signing up for our Essentials newsletter.