Oh, Rats: Pet Rodent's Bite Gives Teen Rare Fever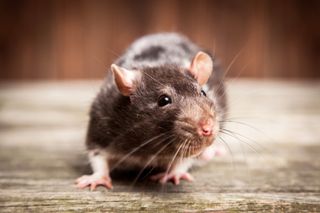 (Image credit: George Dolgikh | Shutterstock.com )
A teenage girl who was scratched when breaking up a scuffle among her three pet rats wound up in the hospital with an extremely rare case of rat-bite fever.
The infection, which is caused by a bacterium found in rat saliva, generally causes fever, joint pain and rash, and is fatal in up to 13 percent of cases, according to the report of the young woman's case.
Rat-bite fever, which was described in writings dating back 2,300 years, is rare: Only about 200 cases of the disease have been reported in the past 150 years, the authors wrote in their report, published today (Dec. 22) in the journal BMJ Case Reports. [10 Deadly Diseases That Hopped Across Species]
Dr. Carina Brown, a resident physician at the University of Virginia School of Medicine and the lead author of the case report, said she had studied rat-bite fever when preparing for an exam in medical school, but never thought she would see it in practice.
But the teen's case was considered "classic" because her symptoms were typical of the disease and she had spent time around rats, Brown told Live Science.
The young woman went to the emergency room in January 2015 because of pain in her hip and lower back, said Brown, who was a medical student at Penn State Hershey Medical Center when she saw the patient.
The teen told the doctors that she also had experienced fevers, nausea and vomiting during the prior two weeks, Brown said.
The young woman was admitted to the hospital and, after developing a fever on the second day, was given broad-spectrum antibiotics, Brown said. At that point, the doctors suspected that the patient might have contracted an infection in her joints that may have been causing the pain, she said.
But fever, rash and joint pain can have a number of different causes, presenting a "clinical challenge conundrum," the authors wrote in the report. (Some of the other possible diagnoses included Lyme disease, Rocky Mountain spotted fever and Coxsackie virus, the authors wrote.)
However, the patient had offered up some clues when she was first admitted to the hospital: She told the doctors that she had several pets, including a dog, a cat, a horse and three rats.
Because she lived with pets, the doctors suspected several zoonoses (diseases contracted from animals), including rat-bite fever, Brown said.
Still, the diagnosis of rat-bite fever wasn't confirmed until the lab results from blood cultures — which took seven days — came back, according to the report.
Once confirmed, rat-bite fever is very treatable, according to the case report.
The doctors treated the young woman using intravenous antibiotics for four weeks. After five days, her fever and rash disappeared, and after four weeks, her joint pain completely went away, the doctors wrote.
Brown noted that the patient still has her pet rats, but added that she now wears gloves when handling them.
Follow Sara G. Miller on Twitter @SaraGMiller. Follow Live Science @livescience, Facebook & Google+. Originally published on Live Science.
Stay up to date on the latest science news by signing up for our Essentials newsletter.
Sara is a staff writer for Live Science, covering health. She grew up outside of Philadelphia and studied biology at Hamilton College in upstate New York. When she's not writing, she can be found at the library, checking out a big stack of books.