Holiday Hazard: Installing Christmas Lights Can Lead to Falls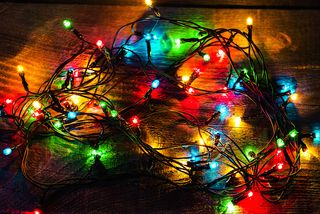 (Image credit: jeka84 Shutterstock.com)
Putting up Christmas lights is part of the holiday tradition for many people, but it turns out that falls during installation can sometimes lead to serious or even deadly injuries, a recent study suggests.
In the study, researchers looked at the data of 40 patients who were admitted to a hospital in Canada for severe injuries from falls while installing Christmas lights during the winter seasons between 2002 and 2012. More than 12 percent of the patients had to be transferred to a long-term-care or rehabilitation facility, and 5 percent died as a result of the injuries.
"Falls while installing Christmas lights during the fall/winter seasons can result in severe life-altering injuries with considerable morbidity and mortality," the researchers, from the University of Calgary, wrote in the study, published in the September issue of the journal Injury. "Caution should be employed when installing lights at any height." [Pagan Roots? 5 Surprising Facts About Christmas]
Nearly all of the affected people in the study (95 percent) were men, and their average age was 55 years old. The average length of stay at the hospital due to injuries was 16 days.
Of all the people in the study, 20 percent were admitted to the intensive care unit, and 30 percent required an operation due to their injuries. One person underwent a craniotomy, which involves a surgical removal of part of the bone from the skull to expose the brain.
The most common types of injuries were those from trauma to the head or chest, followed by those from trauma to the spine and to the limbs. Other injuries included those from trauma to the face, pelvis, shoulder blades and even the spleen. About 65 percent of the people were injured because they fell from a ladder and 30 percent fell from the roof, while installing the lights.
The researchers also found that 28 percent of the patients experienced complications after their admission to the hospital due to their injuries, which affected their recovery. For example, 13 percent of the patients developed pneumonia and 5 percent developed a sepsis infection. Moreover, 18 percent of the patients were discharged with a device used for supporting their spine after the injury.
Follow Agata Blaszczak-Boxe on Twitter. Follow Live Science @livescience, Facebook& Google+. Originally published on Live Science.
Stay up to date on the latest science news by signing up for our Essentials newsletter.