727 People on Chesapeake Bay Island Could Become America's First 'Climate Refugees'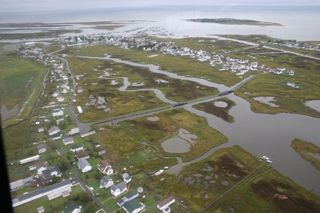 (Image credit: U.S. Army Corps of Engineers & David Schulte)
Rising seas will likely render the last inhabited island in Virginia uninhabitable in 50 years, a new study finds.
The Chesapeake Bay's Tangier Island, the site of the town of Tangier (population 727), will become uninhabitable under a midrange estimate of sea level rise due to climate change by 2063, researchers report in the Dec. 10 issue of the journal Scientific Reports.
Already, more than 500 lower-level islands in the Chesapeake Bay have vanished since Europeans first arrived in the area in the 1600s, said study leader David Schulte, an oceanographer with the U.S. Army Corps of Engineers Norfolk District. Engineering efforts could shore up Tangier, Schulte told Live Science, but saving the island and its neighbors will ultimately require action on climate.
"There are actions that we can take," he said. "But obviously the best action we could take would be to do something about the bigger issue." [Fading Gems: 10 Places to Visit Before They're Gone]
Vanishing islands
Tangier is one of the Tangier Islands, a series of grassy spits of land about 14 miles (22 kilometers) east of mainland Virginia, within the Chesapeake Bay. Tangier is the southernmost of the islands, which also include Goose Island, Uppards Island and Port Isobel.
Thirty-nine islands in the Chesapeake Bay were once habitable, Schulte said. Today, Tangier and Smith Island in Maryland are the only two that remain so. Erosion and sea level rise (and, to some extent, other factors like land subsidence due to groundwater pumping) have eaten away at the rest.
Reliable maps of the Tangier Islands date back to the 1850s. Schulte and his colleagues compared these maps to the modern geography of the islands and then using projected rates of local sea level rise to estimate land loss in the future. Sea level has been rising globally between 0.04 and 0.1 inches (0.1 and 0.25 centimeters) per year, according to the National Oceanic and Atmospheric Administration, and that rate is accelerating. In addition, because of local geology, wind and ocean patterns, some regions will see relatively larger sea level increases. One such hotspot is along the U.S. East Coast from Boston, Massachusetts to Cape Hatteras, North Carolina, a stretch that includes the Chesapeake Bay.
Already, 66.75 percent of the Tangier Islands' 1850 land mass has been lost, Schulte and his colleagues found. On the west side of Tangier Island, erosion from large storms plays a big role in the loss, Schulte said. On the east side, gradual sea level rise is mostly to blame. [Photos: Beautiful & Ever-Changing Barrier Islands]
A conservative, midrange estimate of sea level rise gives Tangier Island a mere 50 years to live, Schulte said. "If you take the more extreme high sea level rise, they've got about half the time, maybe 25 years," he said.
To the north, Goose Island is likely to be inundated by 2038 in the midrange sea level rise scenario, and Uppards will be mostly inundated by 2063 and gone by 2113. As firm land converts to sea marsh, the town of Tangiers will likely be uninhabitable by 2063.
Climate displacement?
That could make the 700 or so townspeople of Tangier the first climate refugees in the United States, Schulte said. And the loss of the islands has ecological and economic consequences, too. By 2063, an estimated $1.75 million per of "ecological services," such as water filtration, bird nesting habitat and blue crab habitat, will be lost, Schulte said.
A rock wall on Tangier Island, built in 1989, already protects a small airport from erosion. Other engineering solutions, like breakwaters and man-made dunes, could extend the life of the island by a few decades, Schulte said. The changes in the island, however, are already visible to the naked eye. A settlement on the island's north end called Canaan was abandoned in the 1920s because of frequent flooding, but 10 years ago, visitors could still see old foundations and a graveyard, Schulte said. Today, it's all gone.
"What was land is now underwater," Schulte said.
Follow Stephanie Pappas on Twitterand Google+. Follow us @livescience, Facebook& Google+. Original article on Live Science.
Stay up to date on the latest science news by signing up for our Essentials newsletter.
Stephanie Pappas is a contributing writer for Live Science, covering topics ranging from geoscience to archaeology to the human brain and behavior. She was previously a senior writer for Live Science but is now a freelancer based in Denver, Colorado, and regularly contributes to Scientific American and The Monitor, the monthly magazine of the American Psychological Association. Stephanie received a bachelor's degree in psychology from the University of South Carolina and a graduate certificate in science communication from the University of California, Santa Cruz.