E-Cigarette Use May Be Gateway to Conventional Smoking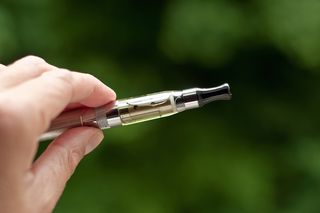 (Image credit: NeydtStock Shutterstock.com)
Teens who use electronic cigarettes may be more likely to start smoking conventional tobacco products than teens who have never tried e-cigarettes, according to a new study.
Researchers looked at a group of teens who had just entered ninth grade in Los Angeles, and found that those who said they had used e-cigarettes — called vaping, because the nicotine solution is vaporized within the device — were more likely to report both six months and one year later that they had gone on to experiment with smokable tobacco products (such as cigarettes or cigars), compared with their classmates who hadn't tried vaping.
"The study found that 14-year-olds who had used e-cigarettes for recreational purposes were four times more likely to start smoking at least one harmful tobacco product — including regular cigarettes, a hookah tobacco water pipe and/or cigars — over the next year," said Adam Leventhal, an associate professor of preventive medicine and psychology at the Keck School of Medicine of the University of Southern California in Los Angeles, and a co-author of the study, published today (Aug. 18) in The Journal of the American Medical Association (JAMA).
The new study showed a link between e-cigarette use in teens and an increased chance of smoking other products later on, but it did not establish a cause-and-effect relationship between them, Leventhal noted.
Still, the researchers said that although e-cigarette use in adults is viewed as a way to help regular smokers cut down or quit the habit, e-cig use in teens may play a very different role. [4 Myths About E-Cigarettes]
In the study, the researchers first surveyed about 2,500 ninth-graders in the fall at 10 public high schools in Los Angeles. The researchers included in their analysis only the students who reported they had never used any smokable tobacco products.
In a follow-up survey in the spring, about 31 percent of the ninth-graders who reported having used e-cigarettes at the beginning of the study said they had smoked cigarettes, cigars and/or hookah in the prior six months. Just 8 percent of the teens who had not used e-cigs said the same.
A similar trend was also observed when the teens were surveyed again, at the start of 10th grade, according to the findings.
Gateway to smoking
The report "is the strongest evidence to date that e-cigarettes might pose a health hazard by encouraging adolescents to start smoking conventional tobacco products," wrote Dr. Nancy Rigotti, director of the Tobacco Research and Treatment Unit at Massachusetts General Hospital in Boston, in an editorial accompanying the study, also published in the Aug. 18 issue of JAMA.
Rigotti called for prompt action to protect young people, such as proposed FDA regulations that would extend to e-cigarettes the same sales, marketing and use restrictions to e-cigarettes that currently apply to conventional tobacco products. These actions would include setting a minimum age of 18 for e-cigarette sales and requiring health warnings on packaging, and they might also include restricting e-cigarette advertising in youth-oriented media and banning product flavoring.
E-cigarettes have become increasingly popular among teens. They may be drawn into recreational nicotine use because many of these devices are sleek-looking and high-tech, and minors can purchase them relatively easily, Leventhal told Live Science. He said their enticing flavors, like bubble gum, appeal to teens, who may also perceive e-cigarettes as less harmful than smokable tobacco.
In addition, teens who use e-cigarettes may enjoy the pleasurable effects of inhaling nicotine in an aerosol (i.e., vapor) form, Leventhal said. Those pleasurable effects may make teenagers more open to trying other products that provide inhaled nicotine, such as smokable tobacco products, he suggested.
Adolescence is a period when the brain is still developing and it is particularly sensitive to the effects of nicotine, Leventhal said. Plus, the teen years are a time when young people are likely to take risks, he said.
One limitation of the study, however, is that when teens were asked whether they had used any e-cigarettes or smokable tobacco products, they could give only a "yes" or "no" response. Therefore, the researchers were unable to measure whether students had a few puffs of a nicotine product or whether they were smoking them regularly and frequently.
Although regular-cigarette use among teens has been declining in the United States, the use of e-cigarettes, small cigars and hookah in this age group has either been on the rise or stable in recent years, Leventhal said.
"A major concern is that the increasing population of adolescent e-cigarette users may eventually lead to future generations that smoke harmful tobacco products," Leventhal said.
Follow Live Science @livescience, Facebook & Google+. Originally published on Live Science.
Stay up to date on the latest science news by signing up for our Essentials newsletter.
Cari Nierenberg has been writing about health and wellness topics for online news outlets and print publications for more than two decades. Her work has been published by Live Science, The Washington Post, WebMD, Scientific American, among others. She has a Bachelor of Science degree in nutrition from Cornell University and a Master of Science degree in Nutrition and Communication from Boston University.