Reports of Newspaper Death Greatly Exaggerated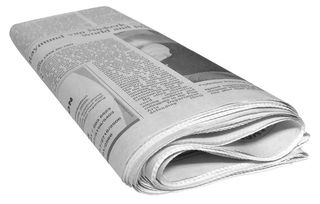 Red ink on balance sheets of major newspapers across the country has been read as the blood of a slow death. Circulation figures continue to plummet as newsroom staffs are slashed.
But the figures may be misleading, a new study suggests. People still read old media.
First the bad news:
Circulation of the The Los Angeles Times fell 5.2 percent in the most recent 6-month period, it was announced yesterday. The paper will cut 75 jobs, or 10 percent of its staff, in the second round of layoffs since July.
Each of the top 25 papers in the country saw circulation dip, led by a 13.6 percent decline at the The Atlanta Journal-Constitution. The Star-Ledger, New Jersey's largest paper, recently announced a 40 percent cut in newsroom staff.
They all might want to hang on to those last remaining reporters.
The new study finds consumption of traditional media, including newspapers, actually rose between 2003 and 2006. While Internet use rose rapidly in the survey of more than 12,000 people, use of old media (newspapers, magazines, radio and television) increased modestly. The overall result, the researchers conclude: media saturation.
A possible reason for the surprising result:
"It could be that newspaper declines are being overstated," said study leader Jay Newell of Iowa State University. "Many of the circulation drops are due to newspapers cutting back on editions that are distributed far from the city and surrounding suburbs. The people who don't get those papers could be reading local papers. Remember, too, that my study looks at newspaper readership, while newspapers report on circulation."
Indeed, The Atlanta Journal-Constitution reduced its distribution area by a third to eliminate outlying counties — some not even in Georgia, the Associated Press reported today.
Specifically, newspapers showed significant readership increases in four key stretches of the day (6-10 a.m., 10 a.m.-noon, 7:30-11 p.m. and 11 p.m.-1 a.m.), while the other three (noon-4:30 p.m., 4:30-7:30 p.m. and 1-6 a.m.) didn't significantly change.
"These numbers showed that the percentage of people who said they typically read a newspaper — in the times that you'd expect them to be reading a newspaper — has remained quite stable over the last five years," Newell said.
New media aren't displacing old, Newell and his colleagues conclude.
"Traditional media haven't dropped and ad agencies are starting to pick up on that," Newell said. "Ad agencies are beginning to see that changes in media use aren't as simple as dropping old habits such as reading the newspaper and starting new ones."
The Most Popular Myths in Science
The Science of the Economy
Urban Legends
Stay up to date on the latest science news by signing up for our Essentials newsletter.
Robert is an independent health and science journalist and writer based in Phoenix, Arizona. He is a former editor-in-chief of Live Science with over 20 years of experience as a reporter and editor. He has worked on websites such as Space.com and Tom's Guide, and is a contributor on Medium, covering how we age and how to optimize the mind and body through time. He has a journalism degree from Humboldt State University in California.