Southern States Ranked Worst for Seriously Sick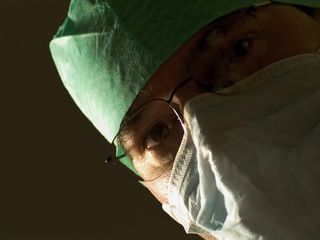 The South is the worst place to live if you're seriously ill, according to a new report that graded each U.S. state for residents' access to palliative care, a fairly new specialty that focuses on patients' quality-of-life issues rather than elusive cures for diseases.
The report, organized by the Center to Advance Palliative Care and National Palliative Care Research Center in New York, evaluated Americans' access to hospitals that offer this type of care among patients with such serious and chronic illnesses as heart disease, liver and kidney failure and Alzheimer's. (Hospice care is palliative care applied to people at the end of life.)
Only Vermont, Montana and New Hampshire earned an A.
Three states – Oklahoma, Alabama and Mississippi – got an F. The nation, says the new report, gets a C.
Regionally, 65 percent of hospitals surveyed in the Midwest had palliative care while only 41 percent offered it in the South, according to "America's Care of Serious Illness: A State-by-State Report Card on Access to Palliative Care in Our Nation's Hospitals." The report is based on a study by Dr. R. Sean Morrison in the October 2008 issue of the Journal of Palliative Medicine.
Some 53 percent of all hospitals surveyed had a palliative care program. Larger hospitals were, not surprisingly, more likely to have such programs — 75 percent did. For-profit hospitals were the least like to have them — 20 percent did.
"The good news is that hospitals nationwide have implemented palliative care programs quickly over the last six years," said Dr. Morrison, director of the National Palliative Care Research Center. "The bad news is that if you live in the South or you have to rely on public or small community hospitals, you're in trouble."
10 best and worst
Here is the report's list of the top 10 states, from best descending to very good, in terms of the best access to care for the seriously ill: Vermont, Montana, New Hampshire, District of Columbia, South Dakota, Minnesota, Missouri, New Jersey, Oregon, Iowa.
The 10 worst states, from worst ascending to better: Mississippi, Alabama, Oklahoma, Nevada, Wyoming, Louisiana, South Carolina, Texas, New Mexico, Kentucky.
In 2008, 90 million Americans are living with serious illnesses such as cancer, heart disease, diabetes, Parkinson's, stroke and Alzheimer's. As baby boomers age, this number will more than double over the next 25 years.
"Americans are living longer — but with serious illnesses," said Dr. Diane E. Meier, director of the Center to Advance Palliative Care and co-author of the study. "Without palliative care, people with serious illnesses like cancer often suffer unnecessarily from severe fatigue, pain, shortness of breath, nausea and other symptoms from their disease and treatments."
Meier won a MacArthur "genius" grant last month for her work in developing the field of palliative care.
A new direction for hospitals
Dr. Richard Payne, whose research, training of doctors and practice focuses on palliative care, called the new report card "right on target." Payne is the director of Duke University's Institute on Care at the End of Life and was not involved in the report card or the study behind it.
Beyond that, he said that palliative care is the direction that hospital care will take more and more in the future.
"In fact, it is rare for us to cure almost any disease," he told LiveScience, "except for very acute infectious illnesses. … Is cancer cured? Is hypertension cured? Is heart disease cured? No, these diseases, these syndromes, are controlled and people have to live with the consequences of these diseases — medical consequences, psychological consequences, emotional consequences. We focus on coordinating their care and helping the patient set goals that are appropriate to their treatment."
Hospitals should be about promoting high-quality, excellent care, he said, so they "need to be about promoting competencies in palliative care and in all of their providers, and making sure the system allows that care to be coordinated and efficient within the system."
Avoiding an in-hospital death
The study, based on data from hospitals with 50 beds or more that was collected by the American Hospital Association survey, suggests that in states with more palliative care programs, patients are less likely to die in the hospital; don't have to go to the intensive care unit as much in the last six months of life; and spend fewer days in intensive care or the coronary unit in the last six months.
That also saves hospitals money, which could help lower health care costs.
The report was funded by the Aetna Foundation, Brookdale Foundation, Emily Davie and Joseph S. Kornfeld Foundation among others. A line in the report states that Morrison, Meier and their colleagues worked on it independently of any support from a pharmaceutical company.
And Jessica Dietrich, director of research at the Center to Advance Palliative Care, said that no foundation provided funding specifically for this study nor had any influence on the research questions, design or results. "We conducted the study to document the growth of our field and to draw awareness to areas where access is still lacking," she said.
Video – Cancer-Curing Blood
Stay up to date on the latest science news by signing up for our Essentials newsletter.
Robin Lloyd was a senior editor at Space.com and Live Science from 2007 to 2009. She holds a B.A. degree in sociology from Smith College and a Ph.D. and M.A. degree in sociology from the University of California at Santa Barbara. She is currently a freelance science writer based in New York City and a contributing editor at Scientific American, as well as an adjunct professor at New York University's Science, Health and Environmental Reporting Program.