Crushing the Ivory Trade in China (Photos)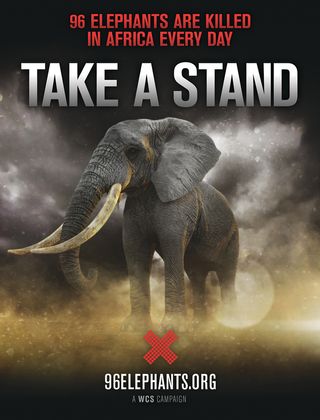 (Image credit: Julie Larsen Maher ©WCS)
Josh Chamot, features editor of LiveScience.com, contributed this article to Live Science's Expert Voices: Op-Ed & Insights.
China and the United States are two of the largest markets for ivory and other illegal animal parts, in part because many Chinese consumers don't realize elephants die when ivory is taken. Now, a social media campaign launched by the Wildlife Conservation Society (WCS) is spreading word about how ivory kills, and the campaign is gaining strong government support. Read more in Endangered Elephants Could Find Savior in Chinese Chat Sites and see images about the international effort below.
Family first
After a 22-month pregnancy, an African elephant calf is nearly inseparable from its mother. If the calf is a female, it may stay with her for life. (Credit: Julie Larsen Maher, Copyright WCS.)
Strong stance
Officials look on during a recent crush of illegal ivory in China. (Credit: Copyright WCS China Program.)
Taking a stand
Through a series of social media mini-campaigns developed in China, more than 8,000 Chinese have taken pictures documenting their pledge to "Bring No Ivory Home" on shouhudaxiang.org. (Credit: ©WCS China.)
Setting a precedent
Ivory crushes also happen in the United States. The U.S. Fish and Wildlife Service has taken the unprecedented step of pulverizing nearly six tons of elephant ivory stored at the National Wildlife Property Repository in Colorado. (Credit: Julie Larsen Maher; Copyright Wildlife Conservation Society.)
Letting the world know
Travelers in Guangzhou Baiyun International Airport take the "Bring No Ivory Home" pledge. (Credit: ©WCS China Program.)
Stand strong
In the first year of WCS's 96 Elephants campaign, one of the accomplishments included the direct protection of elephants in 15 protected areas across Africa, estimated to contain some 45,000 elephants. (Credit: Julie Larsen Maher ©WCS.)
Follow all of the Expert Voices issues and debates — and become part of the discussion — on Facebook, Twitter and Google+. The views expressed are those of the author and do not necessarily reflect the views of the publisher. This version of the article was originally published on Live Science.
Stay up to date on the latest science news by signing up for our Essentials newsletter.