Marijuana Extract May Help Reduce Epilepsy Seizures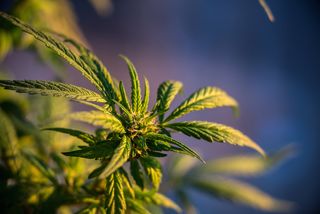 (Image credit: Atomazul | Shutterstock.com)
A medicine made from marijuana may provide some relief to people with severe epilepsy who don't get better after trying other treatments, according to a new study.
In the study, researchers examined 137 people, ranging in age from toddlers to adults, who all had severe epilepsy, a condition that causes seizures. The participants took an extract made from cannabis plants daily for 12 weeks, and during that time, the number of seizures they experienced fell by an average of 54 percent.
The researchers noted that the participants knew they were receiving the extract, and that the study did not include a comparison group of people with severe epilepsy who were not given the marijuana drug or who were given a placebo instead.
"While the findings are promising, more research is needed, such as randomized-controlled trials to help eliminate the possibility of a placebo effect," said study author Dr. Orrin Devinsky, director of New York University Langone Comprehensive Epilepsy Center.
The main ingredient in the drug the participants took was cannabidiol, a marijuana compound that does not have psychoactive properties. (The "high" feeling that marijuana produces comes from another compound in the plant, called THC.)
The people in the study had previously tried other treatments for their epilepsy, such as anti-epileptic drugs, diet changes, surgery and neurostimulation therapies, Devinsky said. In fact, "about one-third of patients with epilepsy do not respond to medications," he told Live Science. [11 Odd Facts About Marijuana]
There were 213 participants at the beginning of the study, but some dropped out of the study before reaching the 12-week mark, including 6 percent (12 people) who stopped taking the marijuana extract because of the drug's side effects. Overall, more than 10 percent of people in the study experienced side effects. Sleepiness occurred in 21 percent of the people, 17 percent experienced diarrhea and fatigue and 16 percent said their appetites decreased.
Formal studies on this marijuana extract have been scarce so far, Devinsky said. The new results add to the previous findings related to the extract, which were presented at the American Epilepsy Society meeting in October 2014, he said. However, that study was smaller; it involved only 23 participants with epilepsy for whom other treatments had not worked. After the participants took the drug for three months, their seizures decreased by an average of 32 percent, the researchers found.
It is not clear exactly how the extract works in patients with epilepsy. One of the potential mechanisms involved could be related to a receptor called GPR55, which could be triggered by cannabidiol and may affect nerve cells' activities, Devinsky said.
The study was funded by GW Pharmaceuticals, a United Kingdom-based company that specializes in developing cannabinoid prescription medicines.
The new findings will be presented April 22 at the American Academy of Neurology's annual meeting in Washington, D.C.
Follow Agata Blaszczak-Boxe on Twitter. Follow Live Science @livescience, Facebook & Google+. Originally published on Live Science.
Stay up to date on the latest science news by signing up for our Essentials newsletter.