Cleaner Air Really Does Improve Kids' Lung Health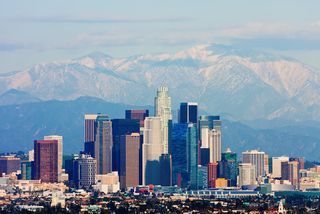 (Image credit: Andrew Zarivny/Shutterstock.com)
Tougher air pollution control strategies in California may have resulted in better lung health in children, a new study suggests.
Researchers found that children in California experienced improved lung function as levels of air pollution in the state declined between 1994 and 2011.
"We saw about a 10-percent improvement" in the amount that children's lung capacity grew over a four-year period, said study researcher Jim Gauderman, a professor of preventive medicine at the University of Southern California's Keck School of Medicine in Los Angeles. The researchers looked at children who were examined during the period from 2007 to 2011, and compared them with children examined during the mid-1990s
"We have seen dramatic improvements in air quality in Southern California, and this study demonstrates that it has resulted in substantial improvements in children's respiratory health," Gauderman told Live Science.
In the study, which is published in the March 5 issue of the New England Journal of Medicine, the researchers evaluated more than 2,100 children, ages 11 to 15, living in five communities near Los Angeles, which has been one of the most polluted cities in the United States. [10 of the Most Polluted Places on Earth]
To determine what effect stricter pollution-control laws in California have had on changes in lung development among the state's young residents, the researchers tracked three groups of teens over four-year periods. They measured lung function in one group of children every year between 1994 and 1998; a second group was evaluated from 1997 to 2001, and a third between 2007 and 2011.
Cleaner air, healthier lungs
The data revealed that the air in Southern California got cleaner during the nearly two decades over which the children were evaluated. The findings also suggested that reduced emissions from cars, trucks, trains and ships, along with lower levels of industrial pollutants produced beneficial effects on the teens' lung function.
The results showed that the number of 15-year-olds who had abnormally low lung function decreased from 7.9 percent of children in 1998, to 6.3 percent in 2001, and it fell to 3.6 percent by 2011. Being exposed to cleaner air also led to better lung function in kids with asthma, the analysis found.
Of the four air pollutants monitored during the study, the health improvements seen in the teens were most closely linked to lower concentrations of nitrogen dioxide and particulate matter, whereas the changes were linked to a lesser extent with ozone, Gauderman said.
The researchers looked at 11- to 15-year-olds because the lungs develop rapidly at these ages as teens go through puberty, Gauderman said. People reach their maximum lifetime lung capacity by age 20, and what happens to children's lungs during the teen years is critically important as they transition to adulthood, he explained.
This research offers evidence that efforts to enhance air quality can improve children's lung health in the short term and might also make a difference for those kids later in life. Other studies have shown a link between reduced lung capacity in adults and an increased risk of lung disease, heart disease and premature death, Gauderman said
It's important to note that even though the new study was conducted in Los Angeles, the pollutants evaluated in this study are also high in any urban environment in the United States or around the world, Gauderman said.
There's no reason why similar improvements in lung function wouldn't be seen in children living in other areas of the country where similar pollution control strategies are enacted, he suggested.
Follow Live Science @livescience, Facebook & Google+. Original article on Live Science.
Stay up to date on the latest science news by signing up for our Essentials newsletter.
Cari Nierenberg has been writing about health and wellness topics for online news outlets and print publications for more than two decades. Her work has been published by Live Science, The Washington Post, WebMD, Scientific American, among others. She has a Bachelor of Science degree in nutrition from Cornell University and a Master of Science degree in Nutrition and Communication from Boston University.