How to Safely Watch Next Week's Partial Solar Eclipse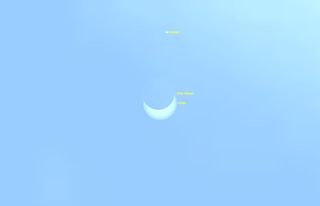 (Image credit: <a href="http://astronomy.starrynight.com/">Starry Night software</a>)
Millions of people across North America could have a chance to observe a partial solar eclipse next week, weather permitting.
Although Thursday's (Oct. 23) partial solar eclipse may not be as spectacular as a total eclipse, it is still a beautiful and interesting event to witness. The sight of the moon gradually moving across the face of the sun fills most people with awe.
The best views of the eclipse will be in the north, in Alaska and the Canadian arctic, but everyone in North America should see some of it, except in the extreme northeast of the continent. In eastern North America, the eclipse will only be visible near or at sunset, so a low western horizon is essential. Venus is very close to the eclipsed sun, but you will probably need to block the sun from view to spot it. [Find out how to see the partial solar eclipse using these sky maps]
In some ways a partial eclipse is the most dangerous to observe. People naturally want to look at it, and this defeats our normal reflex to look away from the sun. WARNING: Never look directly at the sun through binoculars, a telescope or with your unaided eye. Serious eye damage and even blindness can result. Scientists and experienced skywatchers use special filters and glasses to safely observe the sun.
The safest way to view a solar eclipse is by using a pinhole in a piece of cardboard to project the sun. This is particularly effective with an eclipse near sunset, like this one. Punch a hole a couple of millimeters in diameter in the middle of a piece of cardboard, and tape it against a west-facing window. This will project a perfect image of the eclipsed sun on a wall opposite.
Do not use binoculars or telescope to view the sun unless you have a properly designed solar filter, such as the full aperture solar filters available for all telescopes at any store selling astronomical gear. Do not improvise with home-brew solutions, as permanent eye damage is likely to occur.
For most of human history, the moon was largely a mystery. It spawned awe and fear and to this day is the source of myth and legend. But today we know a lot about our favorite natural satellite, and we think you should, too.
Moon Master: An Easy Quiz for Lunatics
Editor's Note: If you take an amazing skywatching photo of the partial solar eclipse or any other celestial site that you'd like to share for a possible story or image gallery, please contact managing editor Tariq Malik at spacephotos@space.com.
This article was provided to Space.com by Simulation Curriculum, the leader in space science curriculum solutions and the makers of Starry Night and SkySafari. Follow Starry Night on Twitter @StarryNightEdu. Follow us @Spacedotcom, Facebook and Google+. Original article on Space.com.
Stay up to date on the latest science news by signing up for our Essentials newsletter.