Drone Captures Incredible Footage of Massive Hong Kong Protests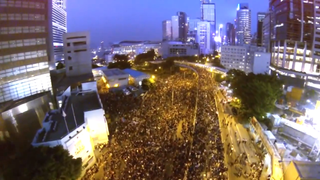 (Image credit: Storyful/Nero Chan | YouTube screengrab)
A high-flying drone swept over throngs of protesters lining the highways of Hong Kong's central business district yesterday (Sept. 29), capturing sweeping panoramic shots of the thousands of pro-democracy demonstrators.
On Sunday (Sept. 28), a small student-led group in Hong Kong started a sit-in to demand democratic elections in the city. After police used tear gas, pepper spray and batons to disrupt the peaceful sit-in, other Hong Kong residents flocked to the movement, joining the demonstration by the thousands, the New York Times reported.
Hong Kong is a semiautonomous Chinese territory, but Beijing does not allow open nominations for the city's chief executive leader. All potential candidates must be approved by a Chinese committee. [Photos from Above: 8 Cool Camera-Carrying Drones]
The video opens with a breathtaking aerial shot of the crowd that shows the huge scale of the protest.
The drone then weaves through the skyscrapers of Hong Kong's central business district, showing thousands of demonstrators lining the streets and blocking all traffic through the area. The slow-panning footage looks like the opening shots of a Hollywood film. About halfway through the video, the drone begins skimming just above the heads of protesters, and many wave as the robotic flier zooms by.
The drone footage was captured by bystander Nero Chan and was posted on Facebook yesterday morning. The news agency Storyful later posted the video to YouTube.
Government censors in China have blocked websites that show or mention information about the ongoing protests in Hong Kong. Many pro-democracy supporters are now demanding the resignation of the city's leader, Leung Chun-ying, after he called the occupation of the city center "unlawful," according to the New York Times. Leung called for an end to protests during a news conference held today.
China has voiced its opposition to any foreign interference in the Hong Kong protest.
"As we have always maintained, Hong Kong is China's Hong Kong, a special administrative region of China," Hua Chunying, a Chinese foreign affairs spokeswoman, said at a news conference in China yesterday, the Wall Street Journal reported. "Hong Kong's affairs fall within China's sovereignty."
Follow Kelly Dickerson on Twitter. Follow us @livescience, Facebook & Google+. Original article on Live Science.
Stay up to date on the latest science news by signing up for our Essentials newsletter.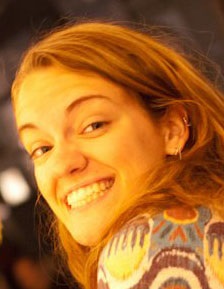 Kelly Dickerson is a staff writer for Live Science and Space.com. She regularly writes about physics, astronomy and environmental issues, as well as general science topics. Kelly is working on a Master of Arts degree at the City University of New York Graduate School of Journalism, and has a Bachelor of Science degree and Bachelor of Arts degree from Berry College. Kelly was a competitive swimmer for 13 years, and dabbles in skimboarding and long-distance running.