Birthday Binging Linked to More Hospital Admissions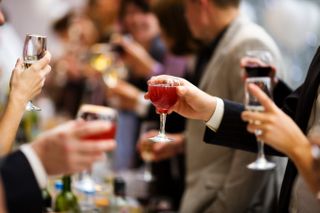 (Image credit: Olga Sapegina | Shutterstock.com)
For many young people, birthday celebrations are synonymous with heavy drinking, but such binging at raucous parties can make birthdays a particularly bad day for your health, according to a new study from Canada.
The results show that excessive drinking — often referred to as binge drinking — lands more young people in the hospital for alcohol-related incidents during their birthday weeks than any other time of the year.
In the study, the researchers looked at the medical records of all people ages 12 to 30 in Ontario, Canada, over a span of five years. The records were taken from several databases encompassing about 350 medical centers. The researchers compared the number of hospital admissions for alcohol-use disorders — defined as any incident in which the patient had symptoms such as alcohol dependence, withdrawal, delirium and acute intoxication — with the dates of the patients' birthdays. They hypothesized that the number of admissions for alcohol-use disorders would spike during the patients' birthday weeks.
The largest spike in alcohol-related hospital admissions occurred during the weeks that patients turned 19 — the age at which drinking becomes legal in Ontario. During participants' birthday weeks, there were an extra 38 admissions for alcohol-use disorders per 1,000 total admissions for men, and an extra 28 admissions for alcohol-use disorders for every 1,000 admissions for women. [7 Ways Alcohol Affects Your Health]
And among women and men combined, the second-largest spike in admission rates occurred around people's 20th, 21st and 22nd birthdays. A lower but still noticeable increase was seen for women and men ages 23rd to 26th.
Binge drinking is a popular way to celebrate birthdays in the United States as well as Canada. "In the US, especially among college students, there is a demonstrated social trend to drink heavily on the 21 birthday, as a rite of passage for reaching the drinking age," said study researcher Jodi Gatley, a research assistant at the University of Northern British Columbia.
Studies report that 40 percent of American college students ages 18 to 22, and 45 percent of adults ages 21 to 25, binge drank in the previous month. Studies that looked specifically at when these binges occurred found that in the United States, binge drinking occurred the most during 21st birthday celebrations — even more so than on holidays like Christmas or Spring Break.
In American college surveys, a large majority of young adults who turned 21 showed an average maximum estimated blood-alcohol concentration of 0.20 percent —a level that is more than double the limit the Centers for Disease Control and Prevention considers safe drinking. Excessive drinking is also linked to serious medical outcomes like alcohol poisoning, high blood pressure, stroke, neurological damage, accidents like car crashes or drowning, and children born with Fetal Alcohol Spectrum Disorder.
"Such patterns of alcohol consumption pose an increased risk for harms in this population, as many studies have demonstrated a link between binge drinking and a range of negative consequences," Gatley and her colleagues wrote in the paper.
The new findings underscore the need to reduce the number of alcohol-related harms during specific times, such as birthdays, so that dangerous binges are avoided, the researchers said, though they mentioned the study had its limitations. First, the researchers only looked at alcohol-related events that were identified as an alcohol-use disorder, which doesn't include the wider range of alcohol-related incidents like injuries from car crashes caused by drunk driving, or assaults caused by drunken behavior that hospitals may see. The study also only looked at the province of Ontario, so the findings may not apply to other areas.
"There is a need for efforts to reduce hazardous drinking during birthday celebrations for young people," Gatley said. "A promising approach is to educate youth and young adults about strategies for less harmful drinking events, such as alternating alcoholic drinks with nonalcoholic ones, eating before and during drinking, having a designated driver, and choosing other types of activities to celebrate."
The study was published July 22 in the journal Addiction.
Follow Jillian Rose Lim @jillroselim & Google+. Follow us @livescience, Facebook & Google+. Original article on Live Science.
Stay up to date on the latest science news by signing up for our Essentials newsletter.