Migrating Birds Fatten Up in Big Apple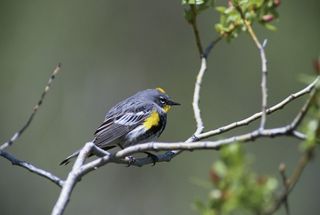 (Image credit: Dave Menke/US Fish & Wildlife Service)
BRONX, NEW YORK—Warblers, sparrows and thrushes are making their annual flight this fall from Canada to the Caribbean, but for the first time, the birds are being body-scanned en route so scientists can determine fat and lean body mass.
The researchers want to know if the birds can restore enough fat during a layover in the rough and tumble of a New York City park to make it to their winter homes.
The migration can take small birds more than a month to complete, so it's critical they bulk up with fat, their primary energy source. Some birds on longer migrations have been documented as arriving so depleted that their digestive tracts are shrunken nearly to cellular scaffolds after serving as back-up energy.
Urban alternative With pristine forests on the decline in the United States and beyond, Chad Seewagen, an ornithologist with the Wildlife Conservation Society here, wondered if migratory songbirds' fat needs were being met by their pit stops at the 600-acre Bronx Park and other urban parklands.
"The very thing that makes urban parks good for bird watching can make them bad for migrating birds—lots of birds crammed into a small amount of space," Seewagen said.
The birds must compete with other migrants for insects, worms and berries in that confined space. (A separate recent study found some owls have left their native forest habitats and now prefer an urban setting.)
"They are amazing little machines," he said. "They have evolved to be able to pack on great amounts of fat and burn that for fuel as they migrate." Seewagen is one of a team of three fat-checkers who have staked out for the past month at Bronx Park, snagging birds in fine nets, assessing fat and lean body mass in a bird-sized MRI machine and then releasing the birds back into the woods.
A little padding The MRI results are not yet analyzed, but Seewagen's previous research and eyeball estimates show that birds arrive and leave just as you'd hope in a big city—with a little padding.
"They land with a lot of fat left over. You don't wait until you get to 'E' and pull off the highway," Seewagen said of the birds. Yet he also has found that birds pack on plenty of fat during their stopovers, up to 10 or 15 percent of their body mass in some species, just in the space of six morning hours of foraging. That would be like a human gaining 15 pounds or more in a single day.
Such behavior would choke us, but it's good news for the birds' long-term survival, suggesting that flyers know how to fuel up during urban parkland pit stops, even though they face such hazards as cars, dogs, patchy woodlands, pollution, parking lots and buildings.
"Our original research shows that birds are doing real well here. Birds are gaining mass," Seewagen said. "Bronx Park appears to be a suitable stopover habitat for migrants. I only hope that's the case in other NYC parks and parks in other large cities such as Boston, Washington and Miami."
Catch-and-release The birds being fat-checked this week at Bronx Park include common yellowthroats, white-throated sparrows, Swainson's thrushes, wood thrushes, ovenbirds, Northern waterthrushes and yellow-rumped warblers.
After the birds are snared in eight nets strung between oak trees, the researchers band and weigh the birds, examine their skulls and wing-lengths and take blood samples. Next, the birds are carried to a special recreational vehicle funded by the University of Western Ontario where they are put into an acrylic tube that fits inside the vehicle's mini-MRI.
The non-lethal MRI methodology is a much better alternative to traditional lab approaches for fat-analysis that require the bird to be euthanized. In the end, Seewagen's birds are released back into the park and promptly flap off to find more food, as if nothing happened.
"In our field, it's more bad news after more bad news," Seewagen said. "We're lucky because we found that birds seem to be doing great."
Bird Flu Pandemic?
Top 10 Most Incredible Animal Journeys
Gallery: Rare and Exotic Birds
Stay up to date on the latest science news by signing up for our Essentials newsletter.
Robin Lloyd was a senior editor at Space.com and Live Science from 2007 to 2009. She holds a B.A. degree in sociology from Smith College and a Ph.D. and M.A. degree in sociology from the University of California at Santa Barbara. She is currently a freelance science writer based in New York City and a contributing editor at Scientific American, as well as an adjunct professor at New York University's Science, Health and Environmental Reporting Program.