UK's Royal Air Force Sends New Spy Drones to Afghanistan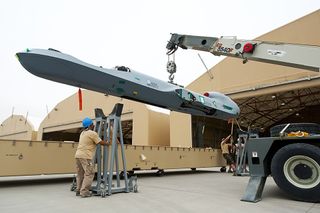 (Image credit: Sergeant Ross Tilly RAF, Crown copyright)
The British Royal Air Force (RAF) has sent five new reconnaissance drones to Afghanistan to support intelligence operations in the country, according to the U.K. Ministry of Defence.
The remotely piloted Reaper drones will beam real-time video to ground crews, and will conduct surveillance missions from the sky. The drones will also help troops on the ground transition, as forces start to withdraw from Afghanistan later this year, according to the Ministry of Defence.
Dubbed the "eye in the sky" by the Royal Air Force, the Reaper drones boast high-tech sensors that can conduct surveillance day or night at an undetectable range from the ground. The drones will operate together with the British Army's Hermes 450 unmanned aircraft, which were also developed primarily for surveillance and reconnaissance missions. [Rise of the Drones: Photos of Unmanned Aircraft]
"These new aircraft give the RAF enhanced force protection capability in support of U.K., ISAFand Afghan troops," Philip Dunne, minister for Defense Equipment, Support and Technology, said in a statement. "As we focus on the drawdown of U.K. forces from Afghanistan, the ability to provide force protection will become increasingly important, and Reaper allows us to provide this assurance remotely, and without significant ground presence."
Flying out of Afghanistan's Kandahar Airfield, the Reaper drones will monitor particular areas of interest and send back vital real-time video. Ground crews will use the footage to assess the location of their troops in detail and look for any potential dangers, with the goal of reducing the risk of civilian deaths and damage to property.
Reapers can be loaded with laser-guided bombs and Hellfire missiles that the drones can launch if the situation requires it, according to the RAF. Nevertheless, only 459 weapons have actually been fired during 54,000 hours of Afghan operations so far, RAF officials have said.
Air Commander Al Gillespie, who oversees British aircraft in Afghanistan, said the drones will "provide vital intelligence and precise strike capability without putting our servicemen and women at risk."
The RAF first operated Reaper drones in October 2007, during operations in Afghanistan against the Taliban. Flying at a maximum altitude of about 50,000 feet (15,240 meters) above the ground, the aircraft conduct long-endurance flights at a speed of roughly 230 miles per hour (370 km/h), according to the U.S. Air Force.
Follow Jillian Rose Lim @jillroselim & Google+. Follow us @livescience, Facebook & Google+. Original article on Live Science.
Stay up to date on the latest science news by signing up for our Essentials newsletter.