Teams Charged Up for Big Solar-Powered Race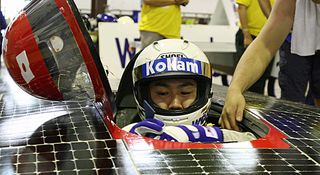 (Image credit: Panasonic World Solar Challenge)
Tech-savvy teams from across the globe are throttling their sun-fueled engines for the toughest Panasonic World Solar Challenge yet.
The event marks the 20th anniversary of the biannual solar-powered race, and a record number of teams will hurry through 1,863 miles (3,000 kilometers) of the Australian outback this year, organizers said.
The course from Darwin to Adelaide will be the same as in three previous races, but 23 teams this year will compete in a new "Challenge" category. These cars will have 25 percent less solar panel area than the previous 86 square feet (8 square meters) standard.
In addition to the energy-grabbing cut, vehicles competing in the category require upright seating, which organizers consider a more practical position compared to the luge-like seats found in most solar-powered cars.
"We've done this to try and increase the level to which people can relate to solar vehicles," said Chris Selwood, race event manager. Organizers will also host a "Greenfleet" category, in which vehicles must run on fuel made of 60 percent waste mineral oil and 40 percent water.
The World Solar Challenge measures success by average speed during the course of a race, which takes about 30 hours of total driving time spread over five days. Previous winners include:
Australia's "Aurora," averaging 45 mph (73 kph) in 1999
Holland's "Nuna," averaging 57 mph (92 kph) in 2001
Holland's "Nuna II," averaging 60 mph (97 kph) in 2003
Holland's "Nuna III," averaging 64 mph (103 kph) in 2005.
Race organizers said 41 teams in total from 18 different nations are participating across all the categories in hopes of grabbing a sun-bathed trophy at the finish line.
"Some of these vehicles may be examples of what we're driving in the future, as the issues of climate change and sustainable transport become increasingly urgent," Selwood said.
Coverage of the event starts Oct. 20 at 6:30 p.m. EDT (Oct. 21 at 8:00 a.m. CST) on the World Solar Challenge.
Stay up to date on the latest science news by signing up for our Essentials newsletter.
Dave Mosher, currently the online director at Popular Science, writes about everything in the science and technology realm, including NASA's robotic spaceflight programs and wacky physics mysteries. He has written for several news outlets in addition to Live Science and Space.com, including: Wired.com, National Geographic News, Scientific American, Simons Foundation and Discover Magazine. When not crafting science-y sentences, Dave dabbles in photography, bikes New York City streets, wrestles with his dog and runs science experiments with his nieces and nephews.