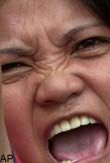 PITTSBURGH – Anger is good for you, as long as you keep it below a boil, according to new psychology research based on face reading.
People who respond to stressful situations with short-term anger or indignation have a sense of control and optimism that lacks in those who respond with fear.
"These are the most exciting data I've ever collected," Carnegie Mellon psychologist Jennifer Lerner told a gathering of science writers here last month.
Lerner harassed 92 UCLA students by having experimenters ask subjects to count backward on camera by 13s starting with an odd number like 6,233, telling them it was an intelligence test and then telling them they weren't counting fast enough and to speed it up as they went along.
Wrong answers meant subjects had to start all over again.
Another test involved counting backwards by sevens from 9,095.
So angry …
The video cameras caught subjects' facial expressions during the tests, ranging from deer-in-the-headlights to seriously upset. The researchers identified fear, anger and disgust using a psychologist's coding system that considers the flexing of particular sets of small muscles in the face.
The researchers also recorded people's blood pressure, pulse and secretion of a high-stress hormone called cortisol, which can be measured in the saliva and collected with a cotton swab.
The people whose faces showed more fear during the had higher blood pressure and higher levels of the hormone. The findings were the same for men and women.
Lerner previously studied Americans' emotional response to the Sept. 11, 2001, terrorist attacks two months afterward and found that anger triggers feelings of certainty and control. People who reacted with anger were more optimistic about risk and more likely to favor an aggressive response to terrorism.
Go ahead, get angry
So in maddening situations in which anger or indignation are justified, anger is not a bad idea, the thinking goes. In fact, it's adaptive, Lerner says, and it's a healthier response than fear.
Chronic, explosive anger or a hostile outlook on the world is still bad for you, contributing to heart disease and high blood pressure, research shows.
The new research supports the idea that humans have more than one uniform response to stress and that fear and anger provoke different responses from our nervous systems and the parts of our brain, such as the pituitary, that deal with tough situations.
The results were published in a recent issue of the journal Biological Psychiatry.
Charles Darwin was the first scholar to propose that you can read people's faces. More recently, Paul Ekman is the master of observing emotions on people's faces. He has even identified rare, super-sensitive people who are expert face readers and can accurately tell when people are lying.
Stay up to date on the latest science news by signing up for our Essentials newsletter.
Robin Lloyd was a senior editor at Space.com and Live Science from 2007 to 2009. She holds a B.A. degree in sociology from Smith College and a Ph.D. and M.A. degree in sociology from the University of California at Santa Barbara. She is currently a freelance science writer based in New York City and a contributing editor at Scientific American, as well as an adjunct professor at New York University's Science, Health and Environmental Reporting Program.