Huge Swath of Amazon Preserved in Record-Setting Deal (Op-Ed)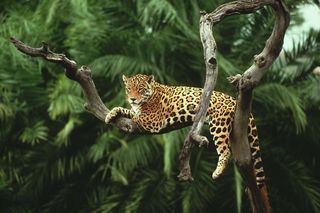 (Image credit: © Y.J. Rey Millet/WWF-Canon)
Meg Symington is managing director for WWF's Amazon program. She contributed this article to Live Science's Expert Voices: Op-Ed & Insights.
On May 21, the Brazilian government, World Wildlife Fund (WWF) and partners announced the creation of a $215 million fund to ensure long-term protection of the world's largest network of protected areas — 150 million acres of the Brazilian Amazon rainforest.
It's not often as conservationists that we get to celebrate such a big win.
I've been working in the Amazon for 25 years — originally studying the ecology and behavior of spider monkeys — but not until today have I been able to claim such a huge victory for a place I care so much about. [Stunning Photos of Amazon Biodiversity]
It's a headline-making conservation story and truly deserving of international attention: 150 million protected acres, the largest tropical forest conservation project in the world, global ecological impact.
Thanks to an innovative long-term financing model, 150 million acres will be protected permanently, which amounts to fifteen percent of the Brazilian Amazon. That's equivalent to three times the size of all U.S. national parks combined.
We've been working on this with the government of Brazil and partners for more than a decade, and there already are almost 100 protected areas encompassing 128 million acres. These were selected based on the rich and unique diversity of habitats and species found there. Half of them are strict conservation areas, some appropriate for tourists, others only for biological research. The others are sustainable-use areas where local people can harvest natural resources, such as rubber or nuts.
The conservation value of that amount of protected areas is cause for celebration in and of itself. But what's truly groundbreaking is its funding mechanism. [Photos: Huge Swath of Amazon Preserved in Record-Setting Deal ]
An unprecedented number of partners created an extraordinary $215 million transition fund to help the Brazilian government manage the protected areas for the next 25 years. During that time, Brazil gradually will increase its own contributions with the intention of establishing permanent financing as the money in the transition fund draws down.
Permanent and full financing for a protected area system. Large scale forest protection. And it's the Amazon. I feel like we've won the World Cup of Conservation!
So how did it all happen?
In 2002, Brazil established the Amazon Region Protected Areas (ARPA) program to continue the commitment the country made in 1998 to protect at least 10 percent of the Brazilian Amazon in response to growing concerns about the future of tropical rainforests. The challenge they faced however, and with most conservation programs in general, was how to fund it for the long-term.
A decade later, WWF had teamed up with the government of Brazil; the Brazilian Biodiversity Fund, a private non-profit organization that designs and manages financial mechanisms for biodiversity conservation; Larry Linden, a former partner at Goldman Sachs, who founded the Linden Trust for Conservation (LTC); and the Gordon and Betty Moore Foundation, to lead the formation of a long-term financing plan.
And last week the deal was closed. A permanent financing model now is a reality for long-term conservation of the Brazilian Amazon.
We are betting on the future of Brazil, essentially. But we are confident that the government will be able to fully take on the responsibility down the road. Our job now is to ensure the money is secured, commitments are honored, and the government stays on track.
This deal comes at a critical time. When you think of the Amazon, you may imagine only a wild and remote region. But development is creeping in to this important wilderness, and it's already starting to change. These protected areas are vital to ensure that species, like those spider monkeys I studied, have plenty of forest habitat, and to safeguard natural resources.
ARPA will now achieve its ultimate goal and contribute to protecting a place that helps stabilize our planet's climate, harbors one in ten known species, and provides a home for 30 million people. And that's reason for all of us to celebrate.
Follow all of the Expert Voices issues and debates — and become part of the discussion — on Facebook, Twitter and Google +. The views expressed are those of the author and do not necessarily reflect the views of the publisher. This version of the article was originally published on Live Science.
Stay up to date on the latest science news by signing up for our Essentials newsletter.