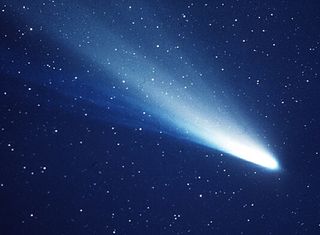 (Image credit: ESA/Max-Planck-Institute for Solar System Research)
This article was provided by AccuWeather.com.
Stargazers in the southern U.S. will have some of the best sky conditions in North America to view the Eta Aquarid meteor shower late on Monday night and early on Tuesday morning.
Skies from the Southeast to the central and southern Plains and northern Mexico are expected to be free of clouds during the peak of the meteor shower early in the morning Tuesday.
In addition to the lack of clouds, moonset will occur prior to the peak of the hourly rate of the Eta Aquarids, allowing for a dark sky.
A storm system will produce abundant clouds and precipitation from the Great Basin to the northern Plains, thus obstructing the view of space in those regions.
Sky-watching conditions in rural areas in the Northeast away from the lights of the big cities will be fair to poor. Clouds will be rather abundant north of a front from the mid-Atlantic to central Ohio.
The Eta Aquarid is one of two meteor showers that occurs from the debris trail of Halley's Comet. The other is the Orionid meteor shower that will occur in October.
Halley's Comet will not return to the Earth's vicinity until the summer of 2061.
RELATED: Daytime Fireball Lights Up Canadian, Northeast US Skies NASA Carbon-Counting Satellite Arrives at Launch Site United States Enhanced Satellite Imagery
The Aquarids can be viewed in the southeastern portion of the sky with 10-20 meteors an hour at the peak prior to dawn on Tuesday. The meteor shower will last into early Wednesday morning, but at lower hourly rates.
AccuWeather.com. All rights reserved. More from AccuWeather.com.
Stay up to date on the latest science news by signing up for our Essentials newsletter.