Futuristic Workstation Moves Freely in Space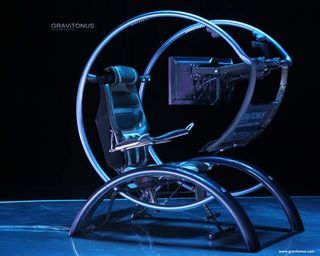 (Image credit: Gravitonus)
The Gravitonus Ergonomic Workstation may be just what you've been looking for. Forget those cumbersome chair/desk/computer combos you've been looking at. This Space Age system is designed to keep you comfortable while you're "piloting" your way into the future.
Whether you are working, blogging or gaming, the system will improve your health and productivity, it's inventors claim.
The Gravitonus workstation [image] was created by a group of researchers involved in medical research for spinal cord injury. The system is designed to provide optimum ergonomic conditions for general computer users, as well as patients with loss of function. Good ergonomics promote good productivity by keeping users comfortable and healthy.
The Gravitonus system allows the user to move freely in space. Like any good gaming system, it constantly orients the user relative to the user's Earth Gravitational Field. (What, your gaming system doesn't?) The Gravitonus system comes with an on-board computer that constantly analyzes the position of the user's body, measuring local temperature and pressure for different body parts, and gently rotates the frame accordingly (see Gravitonus video).
Compare these other great features with that junk you were looking at in your local office superstore:
Matrox TripleHead capability with special displays attachment which allows to align them perfectly in a user's best vision area in any body position give an outstanding presence effect.
A "memory" function which allows moving any display closer to the user's eyes if necessary and returning it back to its initial position.
Special keyboard attachment which allows moving the keyboard freely in 3D and fixing it firmly in space as per the user's wishes.
Dynamic exoskeleton for both hands.
Air conditioning as well as zone heating of the user's body where it comes in contact with the platform.
Shadow and glare-free illumination of the working area.
5.1 Sound system.
Subwoofer is integrated into seat back to add a sensation effect.
Gravitonus is a Russian company. On a trip to Moscow earlier this winter, Microsoft's Bill Gates checked out the Gravitonus workstation. He remarked:
Here are some other recent articles on Russian technology:
There is another recent development in robotic assistance for wheelchair dependent people; see HLPR Chair Mobility Robotics. Find out more about the Gravitonus Workstation.
(This Science Fiction in the News story used with permission from Technovelgy.com - where science meets fiction.)
Stay up to date on the latest science news by signing up for our Essentials newsletter.
Bill Christensen catalogues the inventions, technology and ideas of science fiction writers at his website, Technovelgy. He is a contributor to Live Science.